If you're desperate to wash off the city grime and experience the polar opposite of stress, you need to pack a bag, jump in the car and search out signs for Nottingham.
Sherwood Pines Forest Park is 3,300 acres of lush woodland, cycle paths and quiet walking routes. If you peer through the trees hard enough you'll notice 65 fairytale-worthy natural wood cabins of all shapes and sizes - for large families and couples.
This small site on the edge of Sherwood Pines is owned by Forest Holidays who strive to get Brits back into nature.
Now, we love our stilettos and straighteners just as much as the next girl, but after a week at Sherwood Pines we we're strapping on our walking boots, doing five mile bike rides and assembling a log fire. Such is the power of nature!
Why go?
Firstly, the cabins. There are lots of different types to accommodate families, couples, pets and luxury seekers. We stayed in a Golden Oak Cabin, complete with huge master bed a rain shower and bath tub, a log fire, swish TV and a decked out kitchen with all the cooking utensils you'd ever need.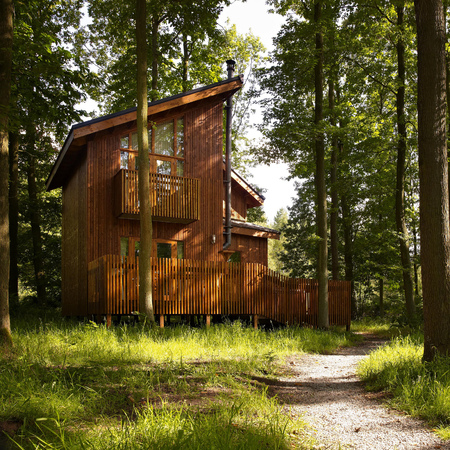 The cabins are spaced out perfectly - close enough so you don't sink into horror movie territory but far enough apart that you get lots of privacy.
Oh, and did we mention the hot tubs on the terrace? Waking up every morning with a coffee, dip in the hot tub and spectacular views of the forest is enough to make even the most stressed individual relax.
Eat and Drink
The cabins are completely self catered, so it provides a great opportunity to test out those tricky recipes. If you don't want to bring a boot full of groceries with you, Forest Holidays offers a pre-arrival online grocery service, where you can order what you want and find it stashed in your cabin's fridge on arrival.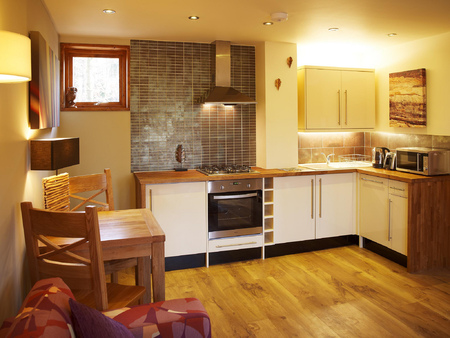 The Sherwood Pines Cafe is just a few minutes walk from the site and offers a wide variety of simple, hearty meals and snacks to help you recharge after a morning of woodland walks and cycling.
If you fancy a lazy night in you can order a 'pizza night package' from the Visitors Centre to be delivered straight to your door. Don't forget, the flat screen TV and wi-fi can be upgraded too, so you can watch all the latest movies on demand. Perfect.
Explore
You're not going to find any shopping malls or cinemas round here, but don't let that put you off! There are four different cycle paths to choose from, all requiring different skill and fitness levels (we stuck to the Green route which takes you on a gentle track through beautiful woodland).
All bikes are available to hire, so you won't need to worry about trying to squeeze your own onto the back seat of the car.
When you're fed up of cycling, there are lots of great walking routes that take you around lush flowerbeds and across rolling fields. Easy-to-follow signs mean you'll never get lost, and there are plenty of play areas to keep the kids entertained along the way.
If you're more of an adventurous type, there's a Segway racing session available and a
Go Ape
adult climbing centre to have you scaling the trees like Tarzan and Jane.
Don't miss
Just because you're staying in a
Lord of The Rings
-style forest home doesn't mean you can't have a bit of luxury thrown in there too. If you want to completely relax and chill out,
My Personal Sanctuary
, will send one of their highly trained beauty therapists into your cabin to give you a massage or a facial. For more information about treatments and prices,
click here
.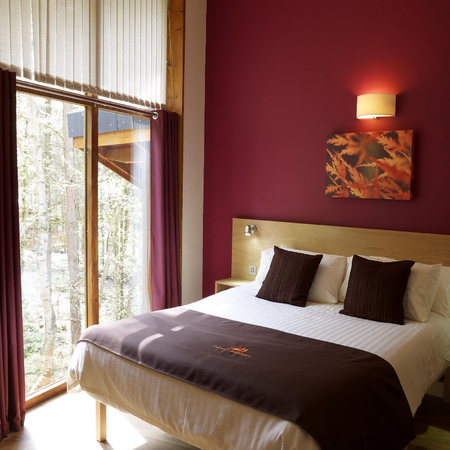 The Facts
A three night break in a Copper Beech two bedroom cabin in low season starts at £192.15. A two bedroom Golden Oak cabin costs from £327 for the same length of time. Longer stays and breaks in peak season/school holidays can cost considerably more.
Prices for a seven night stay in a luxury Golden Oak Cabin start from, £470.
(All prices correct and accurate at the time of going to print, but subject to change)
For more information, to book a last minute winter break or to pre-book for Spring,
click here
.
What do you think?
YOU WILL TRAVEL 18,324 MILES BEFORE 40
TOP 3 RECIPE BOOKS FOR THE WEEKEND
SPEED-DATING IS ALL IN YOUR BRAIN