Sometimes you don't have to travel too far from home to get away from it all and have a bit of well-earned fun. This winter we'll be piling on the winter coats and crossing the channel to Ireland and the sights and sounds of Dublin.
If you've never been before and need a place to start, here's our beginners guide to making the most of Dublin.
Why go?
Everybody loves a good European city break during the winter and Dublin is probably the cheapest and easiest to get to. With nearly 50% of the population under the age of 25, the city has an exciting buzz and lively atmosphere. Also, the Irish are often known for their welcoming hospitality and friendly warmth – something you'll appreciate on those cold winter days.
There's plenty of places to eat and drink and lots of cultural sights to see, like the stunning Bank of Ireland on College Green (pictured above), which provides a great backdrop for a romantic evening stroll.
Stay
There's a strip of guest houses on Parnell Square, around ten minutes' walk from the city centre that are popular with visitors to the region. They offer a great balance between price, quality and location and hold a bit of comfort and charm over the chain hotels.
Most offer breakfast for little cost and regular buses from the airport stop on the doorstep.
Hotel St George
- an elegant Georgian house with roaring open fires, crystal chandeliers and affordable prices - is a popular choice so it's best to book in advance.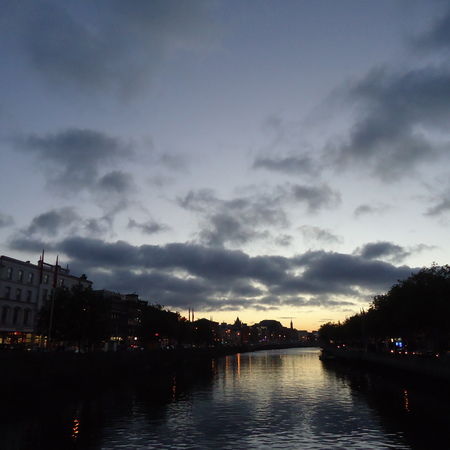 Eat and drink
The Temple Bar area of the city on the south bank of the River Liffey is Dublin's tourist epicentre, so you're bound to find something that takes your fancy.
There are a whole load of restaurants and gastro pubs for some nosh, like
Chameleon
, which offers tasty Asian grub. For those global Hard Rock Cafe chasers, there's one right in the middle of Temple Bar, or you could try the
Brick Alley Cafe
for a light lunch and quirky hot chocolate.
For an afternoon tipple visit the three storey
Porterhouse Brewing Company Bar
on the edge of Temple Bar. With a beer and ale section holding 188 different drinks, on top of the usual drinks menu, there's something for everyone.
Be prepared for weird looks if you order a white wine spritzer though!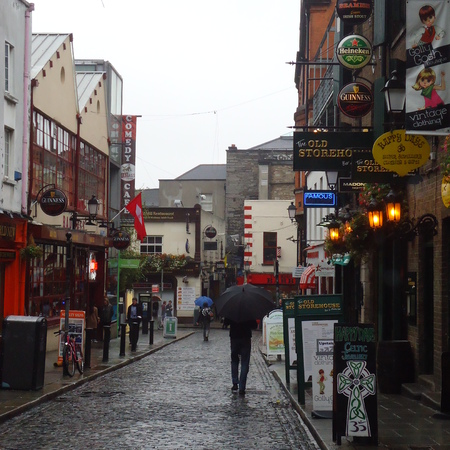 Shop
On top of the usual high street chain stores, the centre of Dublin also offers a great, eclectic mix of alternative fashion boutiques, unique trinket shops and family owned music shops. Move outside the Temple Bar area and explore the maze of streets south of Dame Street and you will find a few markets and alternative options for gifts to bring back.
For a few places to start,
click here
.
Explore
A great way to explore the city is to go on a guided tour.
Hidden Dublin Walks
offer a quirkier, more alternative city tour, focusing on the ghoulish and haunted tales of the city. Imagine being moved round Dublin's cobbled alleyways by the fella picured below...
The tours are well designed and tailored to all interests, so you're unlikely to get bored. We're big fans of
The Gravedigger Bus tour
...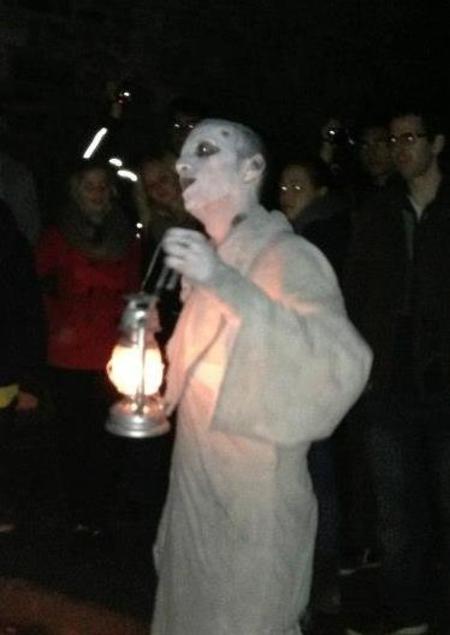 Don't miss
The
Guinness Store House
is a must see for all Dublin newbies.
Even if you're not a Guinness drinker, the factory-museum is five floors of weird and wonderful beer history plus there's a stylish bar at the top, which offers 360 degree views of Dublin. And to answer that nagging question, yes, there is free Guinness! A complimentary drink from the bar comes with your admission price.
The Facts
A double room at Hotel St George for two people for three nights reaches £180 on booking.com. Flights from Manchester to Dublin can be found as cheap as £40 with
Ryanair
.
The Hidden Dublin Gravedigger Bus Tour ticket can be bought for 25 Euros, which includes a free walking tour for another night. You can buy your tickets on the website, or pick them up from the tourist office opposite Trinity College.
Like most European cities, Dublin is cheap to get to and can be cheap to stay, but costs for eating and drinking out can be a bit pricey. On average, a pint is around 5-8 Euros and a simple burger and chips meal ranges from around 10-15 Euros from a decent restaurant.
Will you be popping over to Ireland this winter?
TRAVEL BAG LOVE: STELLA MCCARTNEY SUITCASE
RIHANNA OFFICIALLY THE INTERNATIONAL FACE OF BARBADOS
ESCAPE FOR CHRISTMAS AND NEW YEAR IN EGYPT