Tropical Islands
is a toasty beach resort, complete with endless sun beads, a swimming pool, water slides, palm trees and a sauna. But take a closer look and you'll notice something's not quite right about that cardboard-looking blue sky...
Before you start panicking that we're all living in a
Truman Show
-style parallel world, there is actually a really good explanation for this weird and wonderful place.
Back in 2004, a group of savvy business people decided to turn an old Soviet military hanger in the middle of freezing cold Rausnick, Germany into a tropical holiday destination.
Within one year Tropical Islands, which features a Thai restaurant, exotic plants, a lagoon, real flamingos and overnight accommodation, had attracted more than 975,000 visitors and it's success is still continuing in 2013.
The hangar is 360 metres long, 210 metres wide and 107 metres high, which means it is tall enough to enclose the Statue of Liberty!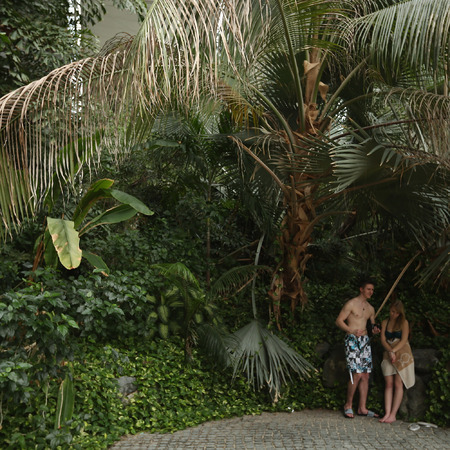 You know when you go on holiday and you secretly hope that the weather at home is really naff, just so you can smugly enjoy a bit more sunshine?
Now imagine that you're inside the Tropical Islands hangar with SNOW outside. Sitting in a bikini while everyone else shivers...yes please!
What do you think?
Leave a comment below to
be in with a chance of winning a £100 goodie bag
.
SURVEY REVEALS THE 'PERFECT HOLIDAY'
MILLIE MACKINTOSH SHARES SUITCASE SNAP
THE TOP 6 HOLLYWOOD 'CELEB HANG OUT' HOTELS