Our resident Egyptian expert (and all round Egypt super-fan), Deborah Klaassen, explains why the home of the Pyramids is such a fantastic place to spend a week in December...
If you don't believe in wonders, a trip around Egypt will make you think twice. Fly out of the UK this December, and you could be bobbing around in a 22°C Red Sea (the UK enjoys a nippy 10 on average) with the Egyptian Sun beating down on you.
Winter sun and a cool desert breeze in Sharm el-Sheikh or Luxor are sure to lift your dampened spirits as you leave the British weather well and truly behind.
For the full Egyptian experience, first time visitors should head to Luxor and the avenue of Sphinxes. This 3 km stretch of road connects Luxor and Karnak and dates back to 380-362 BC.
The 'avenue' was originally lined with 1350 sphinxes on both sides, though many of the statues were destroyed or reused during Roman and Medieval times. The remaining sphinxes are still stunning. It is no surprise that in ancient times, the Egyptians held some of their most important religious ceremonies here.
Once you've caught your breath (it could take a while!), move on to the sanctuaries, chapels, pylons and obelisks of the Karnak Temple Complex itself (see picture above).
This is one of the largest religious sites from the ancient world, and it's especially exciting because of the Amun-Re Precinct, a large open-air museum that allows tourist to learn more about Egyptian culture.
If you're more of a sun,sea and sand kind of girl, an equally enthralling destination is Sharm el-Sheikh.
Though this city is known for its impressive beaches, five star hotels and the tourist attractions of Naama Bay, the south of Sinai Peninsula is also home to ancient sites such as St. Carherine's Monastery & Mount Sinai.
Yes, that's right, the Biblical Mount Sinai where Moses received the Ten Commandments. This 2,285 metre high climb is also known as Mount Horab. Do you dare to give it a go?
As possibly the oldest working Christian monastery in the world, Saint Catherine's is a UNESCO World Heritage Site. The fortified cloister was built in the 6th Century at the site where Moses is supposed to have seen the burning bush. It is even said that the living bush of St. Helen's Chapel is the original… A must see at any rate!
Now that you're at Saint Catherine's Monastery, you really ought to give climbing Mount Sinai a go. It will take you about 3 hours to reach the summit, where you'll be able to see the most glorious sunset ever. You can also try to get a camel ride to Elijah's Pass with one of the local Bedouins. From the pass, it's only an hour to the top. And trust me, it's worth it.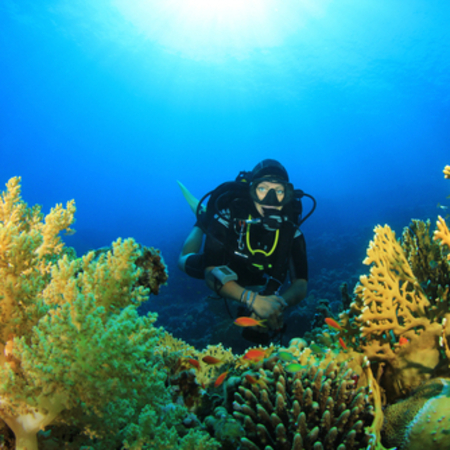 Heights not really your thing? Explore the depths of the Red Sea instead. With its magnificent marine life, colourful coral reef, the wreck of SS Thistlegorm and water as clear as gin, it will rock your world.
Return flights to Luxor from Manchester with
Fly Thomas Cook
start at £99.49.
Return flights to Sharm El Sheikh from London Gatwick
with Fly Thomas Cook start at £108.49.
What do you think?
GO ON A SOLO ADVENTURE TO TAORMINA IN BEAUTIFUL SICILY
9 REASONS WHY SKIING RULES
FLY SAFE WITH THE HOBBIT CAST