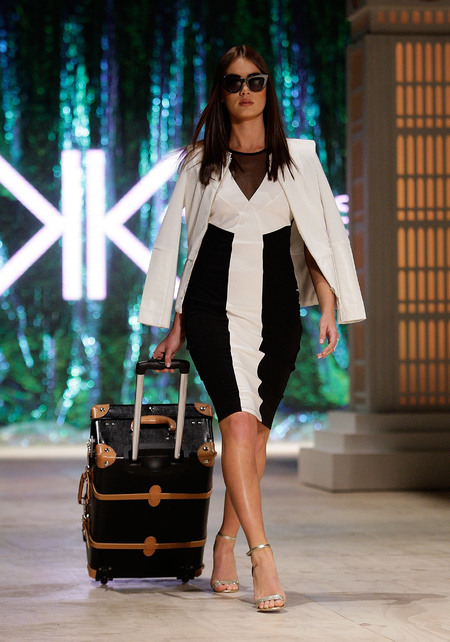 Kim, Khloe and Kourtney Kardashian became one step closer to fashion domination this weekend as they sent their first catwalk collection down the runway at Mercedes-Benz Fashion Festival Sydney (MBFFS).
Monochrome colour palettes came bodycon and tailored, with models pulling luxe luggage down the 'round the world' themed catwalk.
Exotic forest and animal prints also strutted past replica models of the Eiffel Tower, Big Ben and the Chrysler Building, styled in floaty shirts and fitted frocks.
Elsewhere models flashed the flesh in lacy lingerie, giving the debut show a provocative edge as nude and purple satin styles took centre stage.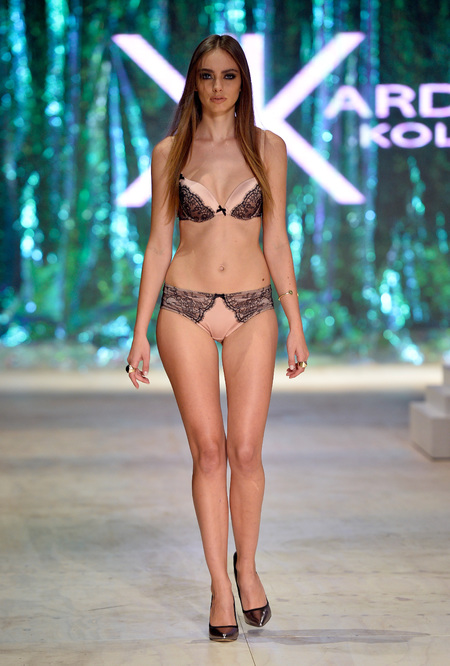 Teaming up with Sydney-based fashion designer Bruno Schiavi to launch the collection in Australia, he said, "I am thrilled to have had the Kardashian Kollection RTW debut runway show in my native home."
Kourtney K also commented previously, "We love that we are able to offer accessible and affordable pieces in the Kollection and are excited for it to hit the runway for the first time."
Despite the exciting occasion, the sisters didn't actually attend the show themselves. But they did send along three comparable models for good measure.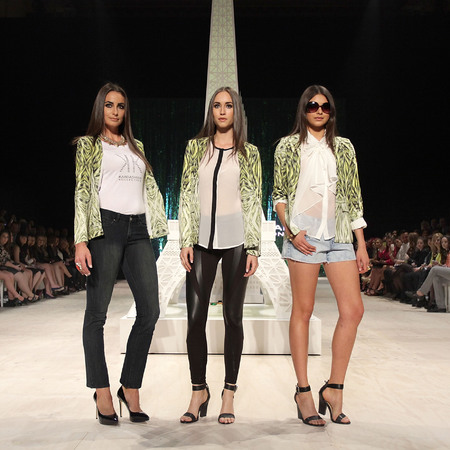 So, what do you think? Want to see the Kardashian Kollection on a catwalk near you?
KARDASHIAN KOLLECTION GETS FIRST EVER RUNWAY SHOW
KHLOE & KOURTNEY KARDASHIAN SHARE KOLLECTION SNEAK PEEK
KHLOE KARDASHIAN DOES 'NAUGHTY SECRETARY' STYLE IN KOLLECTION DRESSES