Robin Thicke
presumed that with all Miley Cyrus' crazy dancing and nudity - we wouldn't notice his choice of a black and white striped suit. He was wrong.
The singer chose the questionable garment to perform his hit
Blurred Lines
with Cyrus at the VMAs last night.
Whilst he was busy raiding Beetlejuice's wardrobe,
Miley left hers behind completely
- instead opting for just a pair of pants and a bra (and a giant foam finger of course, which she got pretty nasty with).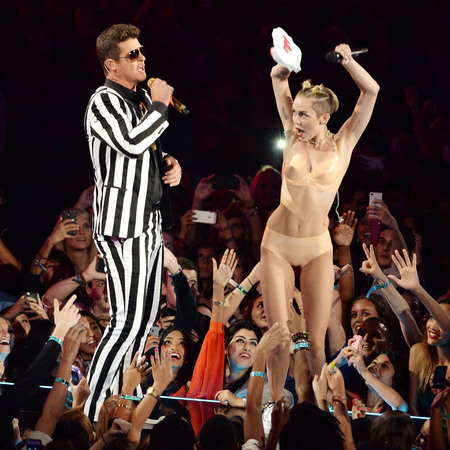 Well, at least Miley seemed to like it as she proceeded to gyrate, bend over in front of and nuzzle the blue eyed singer (we're sure his wife Paula Patton is thrilled).
But the bigger question is - who wore it better?
Who wore it better? Robin Thicke or Beetlejuice?
Robin Thicke - man could wear anything and be fine
33.33%
Beetlejuice - trendsetter that he is
66.67%
RED CARPET LOOKS FROM THE VMAS...
FASHION FIGHT: KATY PERRY & COCO ROCHA IN UNGARO
CHERYL COLE REVEALS TATTOO COVERING HER ENTIRE BUM