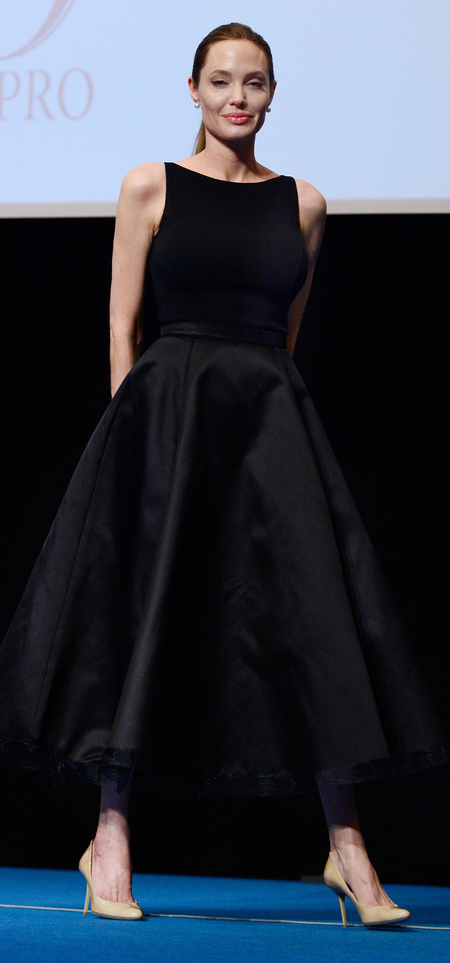 Angelina Jolie
slipped into a black midi dress by Michael Kors today, while wowing at a screening of her latest movie
In The Land of Blood and Honey
.
Having both written and directed the film, Angie made it clear just how passionate she is about the politics behind the plot, urging the audience to help her raise awareness about rape during wartime.
Commenting on the recent move by the United Nations Security Council to take action against perpetrators of sexual violence during conflicts, Angie said, "This is just the beginning.
"Our aim must be to shatter impunity, so that rape can no longer be used as a weapon of war anywhere in the world as it was in Bosnia, and as it is today from Congo to Syria."
Channelling Audrey Hepburn's brand of understated chic with a full skirt reminiscent of vintage Christian Dior, Angelina's Kors dress helped to grab the room's attention before she'd even taken to the mic.
What do you think of her wowzer dress? Loving the shape and style?
KELLY OSBOURNE ROCKS ICE CREAM HEELED SHOES
VICTORIA BECKHAM WEARING FLAT SANDALS AND A SMILE?
MONTH-LONG WAITING LIST FOR KATE MIDDLETON'S DRESS?