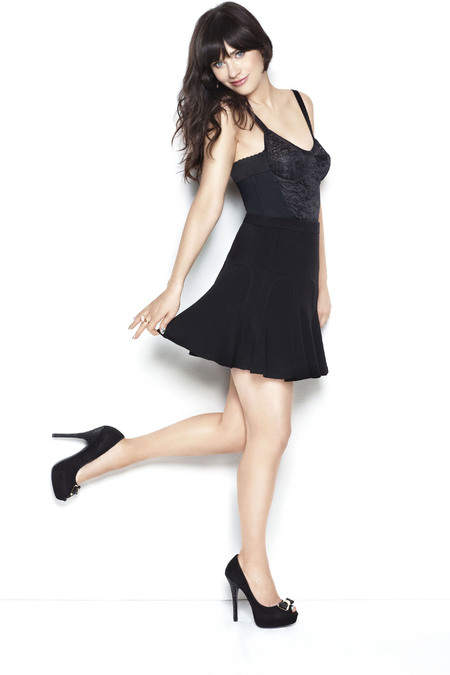 Zooey Deschanel
has been revealed as Cosmopolitan UK's April cover star, as she talked careers, men and music with the prestigious women's magazine.
While Rihanna has been busy working fierce monochrome's for ELLE UK, Zooey injected a heavy dose of girly-everything for her cover shoot.
Getting us in the mood for spring style, the New Girl star showed off her signature look in three feminine ensembles including a lacy, underwear as outerwear pairing.
Talking about inspiring women through her website,
Hellogiggles.com
, she said, "We [Molly McAleer, Sophia Rossi and Zooey] started Hello Giggles for fun, but now I feel like I'm on a mission to make it a thing that helps other women. If there had been a place like that for me when I was 13, I would have felt so much less alone. 
"I was so tired of every site having these comment sections that were pure, pure toxic energy. I put myself out there; it's part of my job, and I get it: people will attack me. At first I was thrown off, but now I have a pretty thick skin about it. But if someone were to do that to one of our 13-year-old bloggers, I would kill them!"
Moving on to the subject of men, Zooey also talked about her ideal guy, "I'd be more likely to go for somebody who is like me. Well, I like creative people, so whatever that means… Yeah, authentic and creative."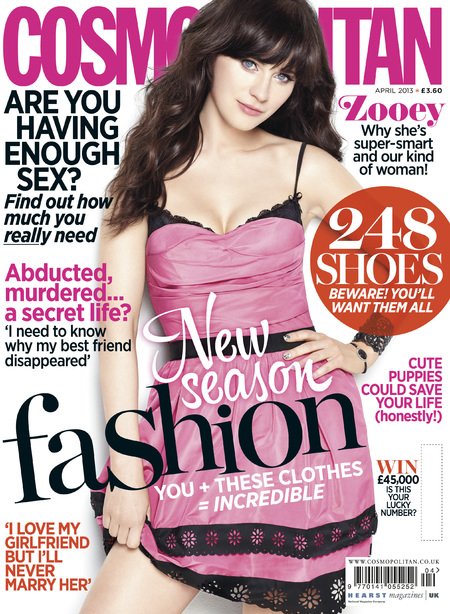 The full interview appears in the April issue of 
British Cosmopolitan
, on sale 5th March and newsstand copies contain a free freshskin by Elemis product. (collect all three products worth £28). The issue also includes a free £15 facial for every reader and the chance to win £1,450 of freshskin by Elemis treats too!
Loving Zooey's style for Cosmopolitan UK? Leave a comment below to
be in with a chance of winning a £100 goodie bag
SHOP! CAROLINE FLACK'S RETRO MISS PATINA COAT
FIRST LOOK! INSIDE RIHANNA'S ELLE UK COVER SHOOT
JESSIE J STYLES UP FLORAL ONESIE WITH WHITE BIKER JACKET