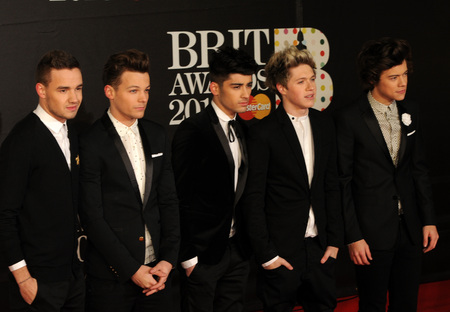 One Direction proved Justin Timberlake isn't the only one who can rock a slick suit as they hit the 2013 BRIT Awards last night.
Mixing up their high-street and designer labels with ease, the boys stepped out in Alexander McQueen,
Burberry
, ASOS and Topman.
McQueen was the designer of choice for Liam Payne, who played it cool in a cardigan, and Louis Tomlinson, who appeared to have invested just as much time in his towering quiff.
Zayn Mailk, in Topman, and Niall Horan, in ASOS, looked equally dapper in their high-street wears, while
Harry Styles
put his faith in Burberry once again. It's a matter of time before Hazza hooks up with Christopher Bailey's brand in some form surely?
Nice work lads!
Do you have a soft spot for One Direction's suited-up style? Leave a comment below to
be in with a chance of winning a £100 goodie bag
RED CARPET: CELEBRITY STYLE AT THE BRIT AWARDS
BRIT AWARDS 2013 FULL WINNERS LIST
COAT CRUSH: ALEXA CHUNG'S ANTIPODIUM LEOPARD PRINT