Louise Gray
has collaborated with Triumph lingerie to design a custom piece for their London Fashion Week AW13 exhibition.
Joining Matthew Williamson, Fyodor Golan and Felder Felder in taking part in the exiting project, Louise has created a bespoke underwear set to display at the Maison Triumph pop-up store in Covent Garden throughout LFW (February 15 to 19).
We caught up with the British designer to talk more about the collaboration…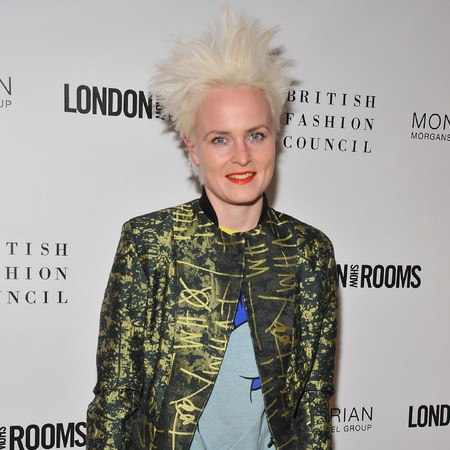 Hi Louise! How did your work with Triumph lingerie come about?
"I didn't know Triumph super well when they approached me but when I did some research I found out they had a great heritage and a dedication to craftsmanship which I can really appreciate. It was fun bringing my sense of design to their classic lingerie."
How would you summarise your design aesthetic?
"My designs appeal to a young girl with a sense of fun. I always experiment with texture and colour and like to create a full head-to-toe look."
And how have you translated this into lingerie for Triumph?
"I have brought all these elements from my main collection to the lingerie to create something with interesting texture and pattern, it's definitely a Louise Gray piece."
Take us through some of the detailing of the piece...
"I used three techniques to create my lingerie set – the first was silk printing, the second was rubberised sequins where I sewed on sequin embroidery and then added a layer of rubber on top, and the last was silk embroidery where I use silk as a thread to sew other fabrics together. I used leather as well as I thought it would be really fun to bring leather into lingerie."
What kind of woman do you see wearing this piece?

"Anyone who is fun and daring - I would like to see someone wearing as outerwear rather than underwear. I think a bra like this could be a cool crop top over a sweater or something in winter."
So how do you see lingerie's place in fashion?
"It's important, I think people should play with it more and have fun with it and not always thinking of it in the same classic way."
As a designer how important is well crafted product?

"It's imperative – I always hand finish my pieces and I keep my production in house whenever I can. I really recognise that and respect it in other designers and brands."
Like the look of this Louise Gray for Triumph lingerie? Leave a comment below to
be in with a chance of winning a £100 goodie bag
MATTHEW WILLIAMSON COLLABORATES WITH TRIUMPH LINGERIE FOR LFW
RED CARPET: ELLE STYLE AWARDS 2013
FASHION WEEK: VICTORIA BECKHAM WOWS IN NEW YORK