Last night
BBC1'
s
Pound Shop Wars
saw competing retailers trying to come up with a new money making scheme to beat their rivals, the answer? A £1 bra.
After last previous shows attention to 99p condoms and pregnancy tests we were feeling a little more open to this.
And, once we got past the puns...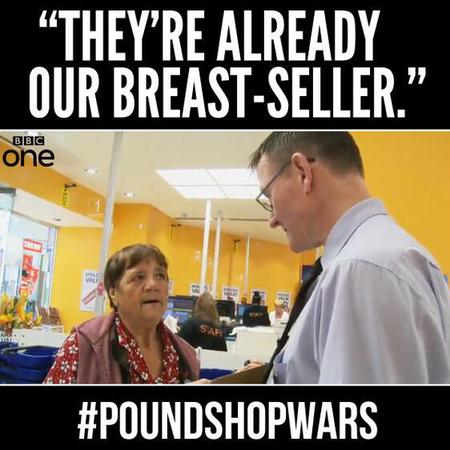 We wondered just how many people would actually duck into their local
Poundland
for their
underwear
?
We felt like the answer for most of us would be no, but is this because of where they're from or what they look like?
Feminist won't be able to burn those #poundshopwars bras due to them being made from dirt cheap recycled asbestos. By 5 year olds.

— Jojubs (@jojubs) February 6, 2014
But if you haven't got the budget and you're happy to by underwear in
Primark
, where quality or materials and
production techniques are often questioned
, there shouldn't really be any issue with a pound shop.
They already have makeup people can't get enough of.
So, if they added some lace and made the whole thing a bit more
Rosie Huntington-Whiteley for Autograph
how many of you would sneak in and buy one?
Would you buy a £1 Pound Shop bra?
No! My boobs deserve better
70.00%
If they weren't so hideous maybe but I'd have to be in disguise when I bought it.
20.00%
If they were just as good as other ones, yeah why not. One pound and proud.
10.00%
DO BRITS REALLY PREFER POUNDLAND MAKEUP?
ASK FOR ROSIE HW'S PANTS FOR VALENTINE'S DAY
MORE SHOPPING NEWS