If you've bought yourself a new vintage or pre-loved handbag, but are now battling the smell of smoke or years of musty storage, you need to read these bag saving tips pronto.
Using DIY methods and items you've probably got knocking about the house already, prepare to get your new/old arm candy looking spick and span in no time!
TIP 1:
The classic damp cloth. Try wiping down both the inside and outside of your bag with a very rung out damp cloth, then give it a dry wipe straight after to remove any moisture. Never soak your leather bag unless you're hell bent on ruining it!
TIP 2:
Wipe it down with diluted white vinegar. Use your judgement on the strength of the dilution given the nature of your bag, but 50/50 should work in most cases. White vinegar will help kill any mold, bacteria and odours without staining.
TIP 3:
Bicarbonate of soda/baking soda. While there's a million ways in which you can do this, we suggest pouring the bicarb into a small pot or even a baby sock, then leaving it inside the bag for a day or two to neutralise bad smells.
TIP 4:
Dry ground coffee. Just like the baking soda tip, try pouring dry ground coffee into an open pot, small bag or sock, and leaving in your bag for a day or two. Once the coffee smell fades it should take any cigarette smoke with it.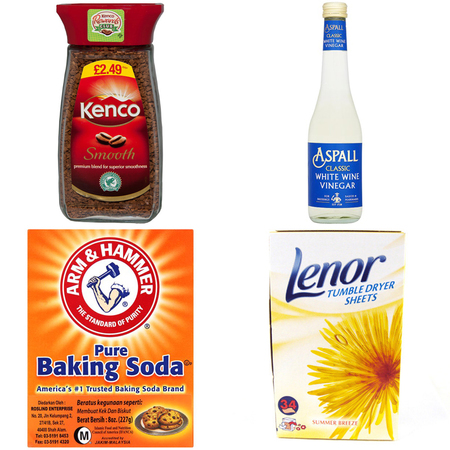 TIP 5:
Activated charcoal/carbon. Yep, it sounds a bit scifi, but this is actually used in water filters as a neutraliser and some medicines to fight flatulence. Hmm. Wrap up the ground version in a handkerchief, cloth or leave in an open pot to diffuse.
TIP 6:
Lavender bags. Get 'em out of your knicker drawer and into that smelly vintage bag if the odour you're fighting is fairly light. Citrus fruit peels could work in the same way too if you're not a fan of florals.
TIP 7:
Solid air freshener. Place it on a cloth or piece of paper to prevent it rubbing onto the lining of your bag, then leave for a few days to kill any odours.
TIP 8:
Freeze it. Yep, we mean put it in a sealed plastic bag to stop it getting wet, and pop it in the freeze for a few hours. The temperature should kill any mold, mildew or bacteria.
TIP 9:
Tumble it with scented sheets. If you have a shoe rack for your dryer, pop your bag into a pillow case, place it on the rack and throw in a few scented sheets. Set it for a gentle cycle and repeat a few times for very stubborn smells.
TIP 10:
Stuff it and scent it. Spritz some perfume or Febreze onto tissue paper and stuff your handbag until it's bulging. Leave for a day or two, then give it a good airing outside, preferably in the sun. Avoid using newspaper for this as the ink could rub off onto your bag leaving stains!
With all these tips make sure to use a little common sense and consider the material of your bag - if in doubt, head to a professional cleaner for some indepth and more specific advice.
What do you think of these tips? Have you tried any?
If you have any tips of your own, do share...
ERM, WHY DOES MY HANDBAG SMELL LIKE FISH?
HOW TO: PROTECT YOUR HANDBAG FROM THE RAIN
TOP TIPS ON SPOTTING A FAKE HANDBAG ONLINE