While we were busy scribbling notes on all the SS13 trends from the catwalk, our
London Fashion Week
photographer Ali Johnson was capturing them in all their gorgeous glory.
That's when she wasn't professing her love for FROW favourite
Kelly Osbourne
, of course.
Read her day diary below...
"
6:30
Wake up! I have to be early for shows to get the best spot, so a good breakfast is a must!
8:30
Arrive at Somerset house for the first show of the day, Daks. Every photographer squeezes into their pre-marked space, it's so tightly packed you have lenses on your shoulder.
9:10
Daks starts, fashionably late of course! The lights go on and it's time to quickly get your camera in the right settings. I snap as many as I can (making sure the models aren't blinking).
9:30
The show is over, straight into the photographers area to go through the pics and edit them down for post production later on.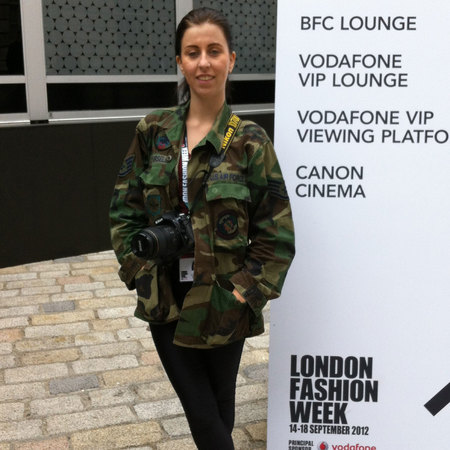 11:00
After Clements Ribeiro I have the quickest lunch known to man, bananas and vitamin water are a must for energy!
13:00
Time for the Jasper Conran show, so I snap a few celebs as they come in.
13:50
Hop off the photographers' bus at Holly Fulton. The show is packed and security is tight as the venue is tiny. Luckily I get in!
17:00
Charlotte Free, one of my fave models, is on the catwalk at John Rocha. She has loads of attitude, which always comes across on camera.
17:50
I arrive at House of Holland, and it's in a car park! As soon as I get through the doors I spot Kelly Osbourne's beau, so I'm on strict lookout for her…
18:09
Kelly Osbourne arrives! I take a pic and shamelessly declare my love for her. She takes it well and is so lovely. Alexa Chung, Nicola Roberts, Pixie Geldof and Delilah are all on the front too.
19:00
It's straight on to Issa London. Must keep snapping…
20:10
I head home for a quick dinner and shower, before relentless editing all night. By 3am I am exhausted, an amazing day but very ready for sleep!
Alarm is back on for 6:30am and the next day of LFW begins.... X"
Visit Ali's blog
here
.