Ellie Goulding
has a look. And that look is tiny crop tops. And why not indeed - with abs like that we'd be wearing crop tops in December.
If you want to get stomach confidence like Miss Goulding - these few training tricks should see you challenging her to an ab-off before the summer disappears.
Combining cardio with strength and toning exercises is the key to getting a defined waist. Ellie is super fit - having run half marathons, and loving a good workout session down the gym.
'I love yoga, it's good for strength, but if your someone who's quite antsy you should really go for a big run,' the singer told
Cosmopolitan
. 'High-energy sports like Capoeira, which is a martial art dance where you're constantly on your hips gets you really good hip muscles.'
With your cardio done - throw in these three moves to tone your upper and lower abs.
1. The double cruncher
This one tackles your entire abdominal area. Lay on the ground and bend your legs at a 90 degree angle, and rest your hands by your temples. Bring in your legs and raise your ribcage up towards the ceiling and extend right back out. Don't let your head and legs touch the ground, aiming to keep them always two inches above the floor.
2. Touch your toes
Toned obliques are the must for a crop-top wearer. Lie on your back, knees bent, with your arms by your side. Lift up your shoulders into a half crunch and then lift your arms straight so they are level with your hips. Then twist, taking it in turns to reach your left arm towards your left toes, then your right fingers to your right foot. Keep your shoulders off the ground throughout, and return to the centre each time.
3. The helicopter
Lie on the floor with arms out to the sides flat on the floor for support. Hold you legs about 6 inches off the floor, extended. Rotate your lower body towards the left, bringing your knees in towards your chest. Then extend your legs back out as you rotate to the start position, keeping your legs elevated. Next, lower to the right, keeping the knees drawn in, then extend again as your rotate back to the start. It should be a flowing motion.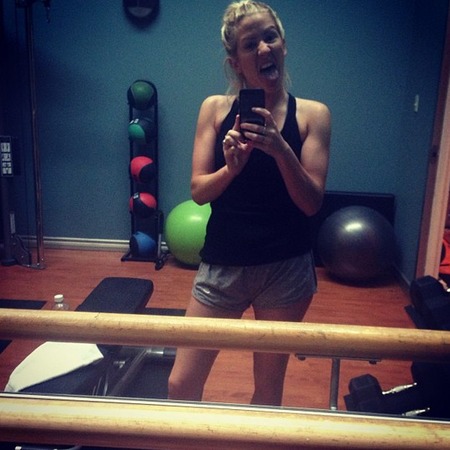 10 WAYS TO TRICK YOUR BRAIN INTO LOSING WEIGHT
THE LONG & LEAN SKINNY JEANS WORKOUT
6 REASONS TO STOCK UP ON MILLIE MACKINTOSH'S FAVE DRINK