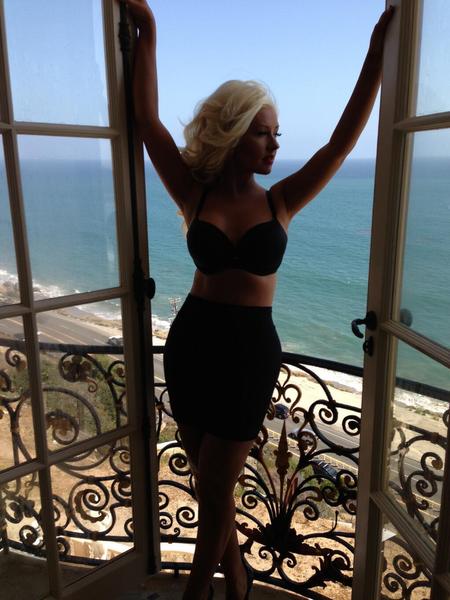 Christina Aguilera
has been showing off the results of her hardcore fitness regime by posting a snap of her whittled waist in just a bra and skirt.
She posted a pic of Twitter showing off her toned bod saying , 'On set shooting music video with @Alexoficial for #HoyTengoGanasDeTi'
The pint sized 5'2" songstress has been hitting the gym hard with her old personal trainer Tee Sorge – racking up five 90 minute workouts every week.
She does a mixture of cardio, resistance and weight training and eats a 1,800 calorie a day diet which is rich in protein, veggies and whole grains.
Not a fan of diets, Christina has said she refuses to cut out her favourite foods (nachos and biscuits apparently – woman after our own heart) and would rather increase her workouts instead.
However in order to slim down, the singer has admitted she tries to avoid white things - like rice, bread and sugar - and doesn't indulge in late night snacking.
This new healthy lifestyle coincides with Xtina getting set to take back her chair on
The Voice
from Shakira and she also has a new single coming out (hence the music video shoot. Doi.)
GISELE BÜNDCHEN'S BIKINI BOD WORKOUT
RIHANNA WIN'S VICTORIA'S SECRET SEXIEST BIKINI BODY AWARD
DOES VIBRATION TRAINING REALLY WORK?