Bride-to-be
Millie Mackintosh
posted a topless photo to show off her toned abs after the second week of her pre-wedding workout regime.
The Made in Chelsea star posted the snap of her wearing a lacey bra top and workout pants, saying, '2 weeks into training with@RichTidmarsh #leanmeanmission#nopainnogain #byewobblybits'
Millie has been emabarking on a mission to get 'lean' and banish 'wobbly bits' before she weds beau Professor Green.
Sorry – wobbly bits? Ha.
However Millie was quick to say that she was not losing weight (good) – more that she just wanted to get fit before her big day.
Er, I am training with @richtidmarsh but not to lose weight! Getting lean and clean. #healthy #fit #goodbyetothesoftbits

— Millie Mackintosh (@millsmackintosh) May 10, 2013
The couple have both enlisted the help of personal trainer Rich Tidmarsh, who is the Owner & Lead Trainer of 'Reach Fitness London' Gym in Clapham.
The trainer has been sharing the gruelling circuit training moves he has been putting Millie through including lots of lunging, squats, and working out on cardio machine, the VersaClimber.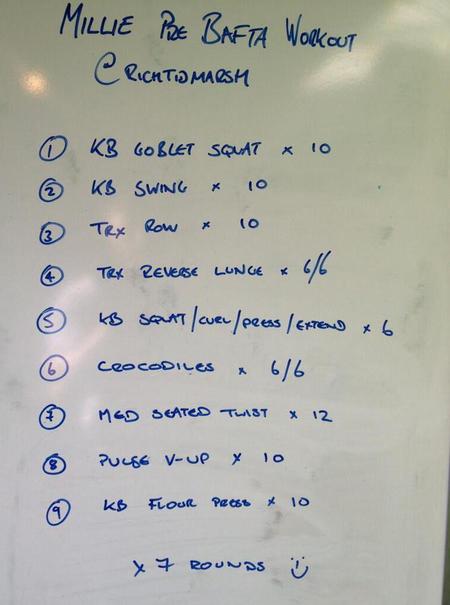 The VersaClimber is a tall piece of machinery that works your arms and legs at the same time as you try and climb basically a vertical wall against resistance. A good one to throw into some circuits (if you really want to make your body hate you).
To strengthen Millie's core – personal trainer Rich has also been making her do the crocodile – a great move for a taught tummy. Give it a go...
Get into a push up position with your arms stretched and then bring your right knee up to your right elbow, twisting your body as you go and looking back at your right foot. Switch and do the left side.
It is a killer! We did two before face-planting. Millie is obviously made of tougher stuff than us.
Watch the video below and give it a go...
MILLIE MACKINTOSH STUNS IN SASS & BIDE AT BAFTA TV AWARDS
MILLIE MACKINTOSH POSTPONES HONEYMOON?
GET THE LOOK! MILLIE MACKINTOSH'S ALL-BLACK GYM KIT