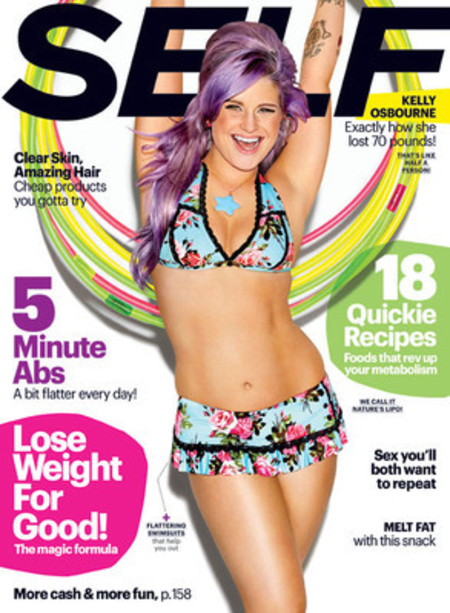 A 70 pounds lighter
Kelly Osbourne
is showing off her new body confidence by wearing a bikini on the cover of
Self
magazine this month.
Kelly told the fitness magazine, 'I'm the most secure and content I've ever been. Though I'm still very self-deprecating.
'I look in the mirror sometimes and I feel like going back to bed. Everyone has good days, everyone has bad days.'
The
Fashion Police
host lost weight through healthy eating and exercise. Of course it helps that her boyfriend, Matthew Mosshart,
is a vegan chef.
HAVE SHARON AND OZZY OSBOURNE SPLIT UP?
Speaking to the mag, 28-year-old Kelly said, 'I don't compare myself to anybody else…It's OK to have a healthy envy and look up to somebody and set goals, but you have to realise that you're never going to be exactly that person. Wishing you were Angelina Jolie or J.Lo isn't going to change the fact that you're not.'
Kelly Osbourne, we salute you! You look amazing.
It hasn't been the best of years so far for Kelly as she was rushed to hospital after a seizure and then there were the recently dismissed rumours that her
parents marriage was over
. Hopefully this cover will be a nice little pick-me-up.
The best celeb bikini bodies (and how to get them)...
KELLY OSBOURNE IS IN "GOOD SPIRITS" AFTER SEIZURE
KELLY OSBOURNE'S DIET TIPS
KELLY OSBOURNE HITS THE RUNWAY FOR THE RED DRESS SHOW