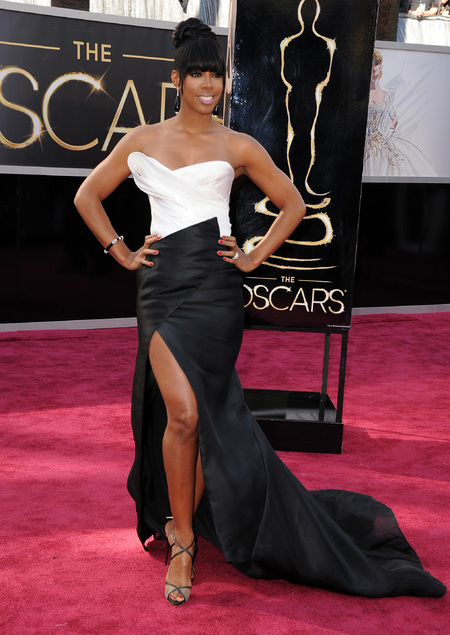 There are loads of
myths about cellulite
(YES, skinny people can get it and NO it's not possible to get rid of it completely) but that doesn't mean you can't help the situation with a clever diet and some simple in-shower tricks.
Cellulite affects over 90% of women and one of the quickest ways to reduce it's appearance is to shift the fat and encourage proper circulation and drainage.
So if you're mesmerised by Kelly Rowland's smashing pins, now's the time to do something about your own...
1. Start body brushing and moisturising
Attacking your legs with a big bristly brush will only smooth the skin and make the surface of your body smoother. To really experience the cellulite reducing benefits of body brushing you will need to use long, firm strokes in the direction of the heart. This is thought to help with lymphatic draining resulting in less fluid retention and a smoother overall appearance. Once you're finished apply a good layer of moisturiser to keep your legs soft, hydrated and smooth.
2. Reach your goal weight
Cellulite is just regular fat pushing through mesh like connective skin tissue, there's absolutely nothing special about it. Therefore one of the quickest and easiest ways to reduce the appearance of cellulite is to shift the excess pounds and hit the gym. If you want legs like Kelly you have to be willing to sacrifice chocolate cake!
3. Up your Vitamin C intake
Blackberries, blueberries, oranges, lemons...Vitamin C can boost the skin's collagen levels and give a more glowing appearance. It's also worth eating plenty of antioxidant rich foods like carrots,
kale
, artichokes, berries and dark chocolate because these are necessary for fighting toxins (which can slow down the lymphatic system and cause fluid retention) and protecting cells from outside pollutants.
4. Eat circulation boosting foods
Asparagus, Cayenne pepper, watermelon, garlic and root ginger are all thought to impact the metabolism and increase circulation. Better blood flow means better drainage of fluids and less prominent cellulite.
5. Consume more 'good fats'
Try and eat foods rich in essential fatty acids and Vitamin E to improve skin elasticity. Almonds and avocados are a good choice, while oily fish containing Omega 3 and 6 like salmon, mackerel and sardines will reduce inflammation and benefit your overall health. Plus, eating a banana a day will ensure you have ample levels of potassium, which helps to eliminate
water retention
.
What do you think?
Leave a comment below to
be in with a chance of winning a £100 goodie bag
.
1 IN 10 HAVEN'T EXERCISED FOR A DECADE!
LIZ EARLE'S HOMEMADE DETOXIFYING LIVER WRAP
COULD EATING DAIRY CAUSE ACNE?