Robbie Williams showed off his noticeably slimmer frame at the
Brit Awards
last night after revealing he lost 24lbs in just five weeks.
On Monday the Take That star posted a snap on
his website
saying, "I went on a diet. Knocked out sugar (processed) and dairy.... Lost 24 pounds in five weeks". WOW.
Now, we're no experts but that seems like a lot of weight to lose in a little over a month. We reckon Robbie must have thrown a few hardcore workouts into his routine too!
He added on his website, ""I was looking like Geoff Capes after the Christmas run.. and seeing as 40 is just around the corner it's time to go all yoga and lentils... or who knows where it could all end."
But Robbie is no stranger to changing his body shape. Last year he announced he wanted to be the next Marky Mark and started bulking up his muscle mass (take a look at the snap below).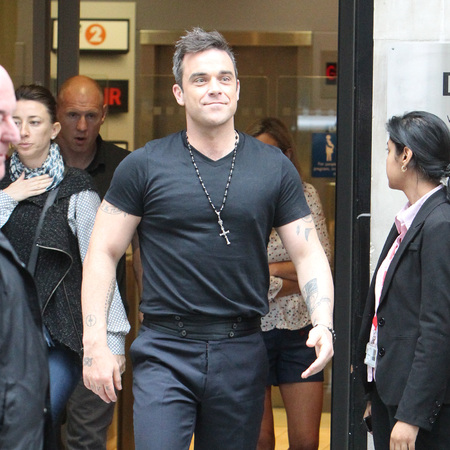 Saying that, we're loving the 2013 version of Robbie...he looks kinda' sexy in that purple suit!
What do you think?
Leave a comment below to
be in with a chance of winning a £100 goodie bag
.
PEOPLE EAT MORE CALORIES WHEN THEY'RE TIRED
MICHAEL MCINTYRE'S £60-A-DAY DIET PLAN
KOURTNEY KARDASHIAN LOST 45LBS EXERCISING BEFORE 7AM