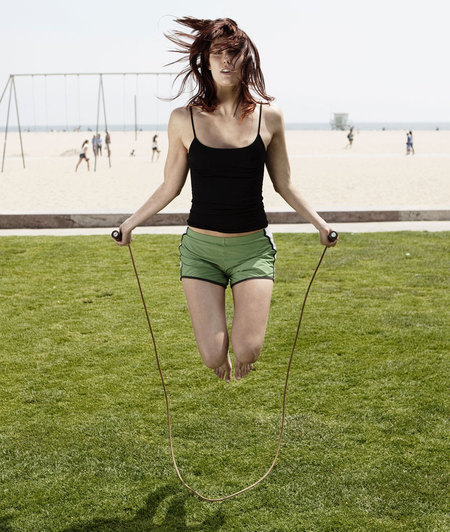 According to a new study the rapid up and down movements associated with skipping can ward off hunger pangs.
Researchers from the Faculty of Sport Sciences at Waseda University in Japan discovered that skipping can 'disturb the gut' and interfere with the release of hunger hormones like ghrelin.
They also discovered that weight bearing exercises like skipping are much better at reducing the appetite in comparison to cycling.
Traditionally, skipping is more popular with amateur and professional boxers who use jumping rope to increase their agility, boost their reflexes and work out their cardiovascular system.
Although any kind of exercise can act as an appetite suppressant, this is the first time a study has found that weight bearing moves - where the muscles and joints continually impact the ground - are more effective against hunger.
This means running is also a great way to avoid that extra slice of chocolate cake.
The great thing is skipping ropes are easy to find, cheap to buy and can be used in your back garden as well as the gym. If you're feeling really adventurous, follow the fancy footwork performed in the video below...
What do you think?
Leave a comment below to
be in with a chance of winning a £100 goodie bag
.
PEOPLE EAT MORE CALORIES WHEN THEY'RE TIRED
MICHAEL MCINTYRE'S £60-A-DAY DIET PLAN
KOURTNEY KARDASHIAN LOST 45LBS EXERCISING BEFORE 7AM