Singer, mother and owner of the most toned stomach in musical history,
Pink
is proudly flashing her rock-hard abs on the November cover of
Shape
magazine.
After putting on 55 pounds during pregnancy, Pink has hit the gym hard to get back in fighting form after giving birth to her daughter, Willow, in June 2011.
"I ate a lot of cheesecake during my pregnancy," she explained. "Also anything sour: Sour Skittles, Sour Patch Kids, key lime pie."
After a spate of celebs putting the pressure on themselves to get back in their skinny jeans immediately after childbirth - Pink let her body recover for a few months before thinking about getting back in the gym. Very sensible.
Celebrity trainers Jillian Michaels (famed for being the fitness task master on
Biggest Loser
) and Jeanette Jenkins helped her get back in shape.
Pink said, "They both kicked my butt more than any other person I've ever worked out with."
Which is probably why she was able to do the intensely physical dance in
new video, Try.
Pink shifted her unwanted pounds with a combination of cardio work and a healthy diet.
"My favourite workout that takes care of my whole body is sprinting. For me, it's the most results I get," she added.
"The 3 healthy foods that are always in my diet would be cous cous, broccoli and salmon." Although she did confess it wasn't easy, as her favourite foods are, "anything carb - pasta, pizza, any carbs!"
The 33-year-old was clearly pleased to be strutting in her smalls, saying, "To be on the cover of Shape magazine, particularly now in my life, is a huge deal to me. I didn't know if I would ever be back in shape."
All that hard work paid off - we think you look ace!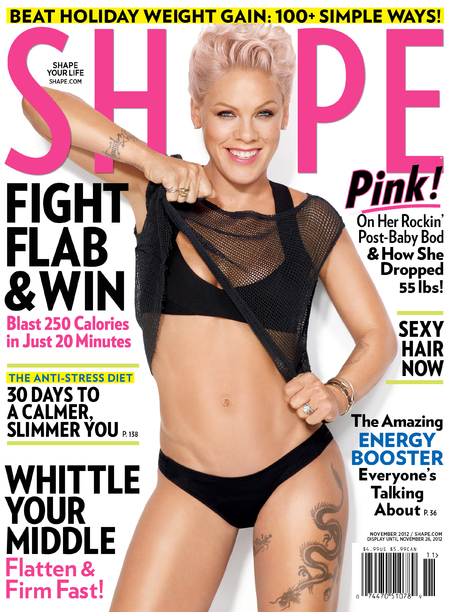 Pink shows off her abs during an acrobatic dance in her new video, Try
Burn those extra calories with Zaggora's new upper body clothing
Eating fruit & veg is the key to mental wellbeing