We called on the expert advice of
Less Bounce
Director, Selaine Saxby, to find out why sports bras are so important and to catch-up on her mission to educate young women about breast care...
"I launched my very own sports bra retailer, Less Bounce, in 2000. I had just come back from the United States, where I'd been able to buy really good supportive bras, but as soon as I got back to the UK I just couldn't find what I wanted. I was teaching aerobics at the time and it was perfectly clear that I wasn't the only lady struggling to contain a larger bust.
I knew quality sports bras existed, so I decided to start importing them and distributing to women who were in a similar position. In the past twelve years companies like
Shock Absorber
and
Panache
have created incredible products, but nine million British women chose not to wear one.
Lots of women don't realise that you can do irreversible damage to your breasts if you don't wear a supportive bra during exercise. When you're young the breast tissue is perky because of the Coopers ligaments which hold everything in place. When you exercise, these ligaments are stretched and put under pressure from the weight of your breasts as you move around.
Once these ligaments stretch there's nothing you can do to repair the damage and your breasts will start to droop irreversibly.
No amount of weight lifting or exercise can fix this because the breasts don't contain any muscle! The problem I find is that nobody knows any of this and nobody tells anyone so women are in the dark. I believe girls should be told at school age and a quality sports bra should be mandatory on the PE kit list.
The University of Portsmouth has done extensive research into the impact of exercise and movement on the breasts. Although everyday t-shirt bras reduce movement by 38%, the best sports bras can reduce movement by up to 80%.
We were shocked to discover that an A cup can bounce 4cm per stride, while a G cup can bounce 14cm per stride when running on the treadmill. This puts a huge amount of pressure on the delicate Coopers ligaments. Unsurprisingly, 45-60% of women suffer from breast pain as a result.
Three quarters of women don't wear a sports bra because they can't find one that feels conformable and fits properly. It's important to get properly measured by professionals or visit specialist sites like Less Bounce where we can help you navigate through the different styles, shapes and sizes.
Forget about what it says on the label. You may be a 34DD, but you could end up with a 34E sports bra, it all depends on the brand and the overall fit.
Here's how you can tell if a sports bra fits properly...
+All of your breasts should be encased in the bra. You shouldn't be able to see any cleavage.
+The fit should be snug - not so tight that you can't breathe, but tight enough that your bust doesn't move around when you walk.
+You shouldn't be able to fit more than one finger under the bra (across the back and around the front).
+Put two fingers underneath the back strap and pull out - you should only be able to pull the strap an inch away from the body.
I would recommend all women invest in a top quality bra to look and feel better during exercise and to protect their breasts from future damage."
We love this
Panache
pink sports bra, which helps to raise money for CoppaFeel!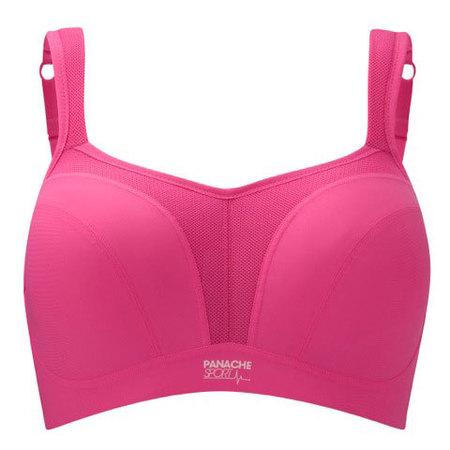 Take a look at the video from Panache (below) to discover how a sports bra should look and feel...
What do you think of Selaine's advice?