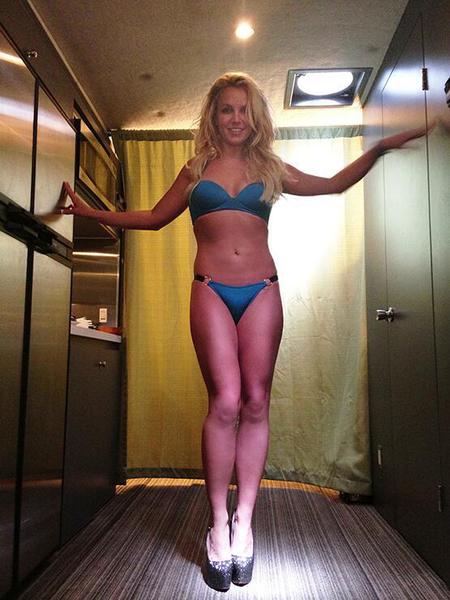 She's famously a fan of junk food but there's nothing rubbish about
Britney Spears
' figure in this revealing Twitter snap from the set of her new music video,
Work Bitch
.
The
pop music icon
has been sunbathing in the middle of the desert between takes, which is why she's wearing a bikini (unless it's part of her music video wardrobe?!) and showing off her enviable figure.
If you want to look trim, toned, healthy and curvy like Brit you'll need to stay fit with an all-over body workout. The trick is to balance cardiovascular exercise with
weights
, drills and a low-fat diet. Sounds easy in theory, but it will take dedication and commitment in practice.
Are you ready to make like Britney and get the
perfect 'soft body'
? Take a look at our top fitness advice below and start today...
1. Cut out the junk:
Britney is notoriously prone to snacking on junk food and takeaways - she's a milkshake, burger and chips kinda' gal. But if you really want a body like Brit you're going to need to swap all that processed food (including your morning latte and afternoon chocolate biscuit) for fruit, veggies, wholegrains, nuts and seeds. What's the point in making your muscles look ripped if they're covered in fat!
2. Keep up the treadmill action:
One way to clear your body of muscle disguising (and health-ruining) fat is to kick your cardio workout up a gear. Alternate between the treadmill, the cross trainer, the stepper and rowing machine in three weekly sessions. Research suggests it's
not how long you work out for, but how hard
, so a 20 minute session is better than walking for an hour. Sweat, sweat, sweat!
3. Work those weights:
Get yourself some wrist and ankle weights to amp-up a Zumba session or use the small dumbbells at the gym for bicep curls. You can also try kettlebell swings to workout your arms, core and chest. Complete a
15 minute circuit of weighted squats and lunges
every day in front on the TV...you'll probably notice a difference in just a couple of weeks.
4. Try some different things:
It's easy for the gym to get repetitive, so try adding a few more interesting activitiesto your day-to-day fitness routine. Start skipping, try a boxing class (like Victoria's Secret supermodel Adriana Lima) or have a hula-hooping session. Buy a couple of fitness DVDs to do in your spare time, jog with the dog instead of walking and hit the pool for a weekly swim.
You don't need crazy exercise regimes and wheatgrass smoothies, just eat better and get moving. It's really that simple! These sensible celebs have some great advice too...
What do you think?
THE BIGGEST WEIGHT LOSS LIES
MICHELLE PFEIFFER: "I LIVED ON MARLBORO LIGHTS AND COCA-COLA"
EVA MENDES TALKS WEIGHT LOSS & GETTING TOO SKINNY