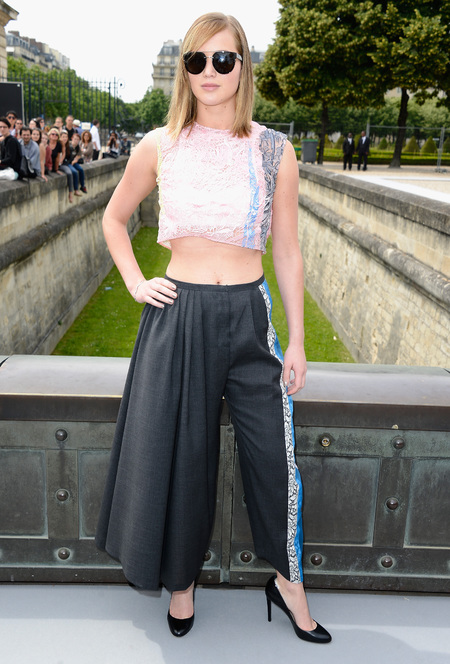 Jennifer Lawrence
got her stomach out in an ab flashing Dior crop top and pantaloons combo at Paris Fashion Week, for the designer's haute couture fashion show.
Now whatever you think of this trouser/skirt, sunglasses, and just-can't-leave-my-GHDs-alone hair combo (sorry Jen, it's not you, it's us), we want to give her abs a big round of applause.
Confirming her status as a body hero, this look shows off her toned, but not obsessively so, figure perfectly.
She previously told
Glamour
magazine, 'I hate saying, 'I like exercising.' I want to punch people who say that in the face. But it's nice being in shape for a movie, because they basically do it all for you. It's like, 'Here's your trainer. This is what you can eat.''
She added, 'I don't diet. I do exercise! But I don't diet. You can't work when you're hungry, you know?'
Love you Jen.
So how does the Oscar winning actress stay in shape? She mixes treadmill runs, sprint track drills and medicine ball exercises for toning.
The actress also does yoga, which helps her stay flexible for the all those athletic Katniss stunts in
The Hunger Games
.
Despite her dislike of dieting, that doesn't mean Lawrence is pounding burgers and milkshakes three times a day. She watches her calories so she can enjoy the foods she wants, stocks up on fruit and veggies and avoids sugary drinks.
If you want to shift stubbon belly fat - try some High Intensity Training (HIT) runs on the treadmill. This quick, high energy routine will get those fat burning hormones pumping and help banish annoying fat reserves.
What you need to do is 30 seconds of high energy blasting on the treadmill, followed by a couple of minutes of relaxed casual pace running to recover. By high energy - it means your absolute maximum output. Push yourself as hard as you possibly can, to the point where 30 seconds seems like a lifetime.
Aim to do this for around four minutes. If you're not crying by the end of the four minutes, you are just not working hard enough. Just think - what would Jennifer Lawrence do?
5 LEG TONING EXERCISES INSPIRED BY CHERYL COLE
KIM KARDASHIAN 'CALM' OVER BABY WEIGHT, SAYS TRAINER
WHY YOU SHOULD ADD RESISTANCE TRAINING TO YOUR WORKOUT