Victoria's Secret model Adriana Lima just can't get enough of boxing. The new mum has been strapping on gloves and smacking a punching bag for nine years and the results are obvious every time she steps a perfectly tanned foot on the catwalk.
On the flip-side we're still reeling from Team GB's Nicola Adams who won the first Olympic women's boxing Gold medal in history. Talk about girl power!
So, what is it about boxing that makes it such a fantastic full body exercise? Well, according to Fitness First personal trainer A J Perera boxing classes are a great way to keep both the body and the mind looking and feeling young.
He told us, "As we age two key functional abilities that deteriorate are rotation and reflex timings. With boxing, you are constantly moving. It is a contact sport that requires you to behave both offensively and defensively; sharpening the mind to react quickly to protect itself.
As you deliver punches, your body requires a strong core on which to rotate the upper and lower body. This enhances and improves your overall agility, increases your cardiovascular activity and conditions your upper body and abdominal muscles."
Sounds good to us! But this definitely isn't an easy workout (as Adriana's seriously sweaty and slightly bruised Twitter snap shows below)!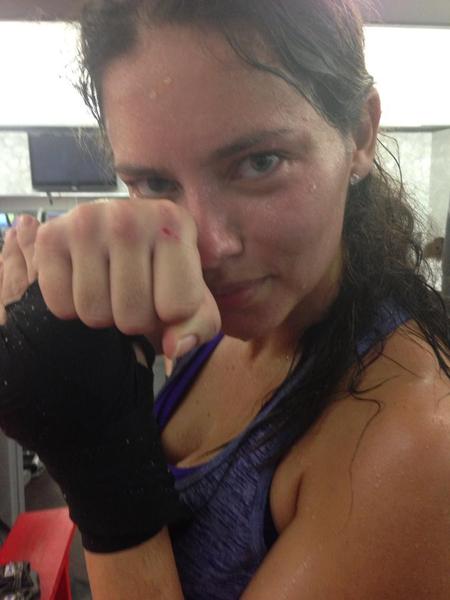 If you're thinking about taking up boxing, here are a few top tips from AJ to get you started...
+
Boxing three days per week with one day's rest in between is a good way for women to start. The rest is crucial because boxing uses both aerobic and anaerobic energy systems (explosive movements and long-term stamina combined).
+
Start with a 45 minute boxing and conditioning session on Monday, Wednesday and Friday. It will work wonders!
+
Use hand wraps to support the joints and warm up your wrists, elbows and shoulders before you start to avoid unnecessary injuries.
+
All the power should come from your core and not the sheer force of thrusting your arms forward. Engage your core by tensing your abdominals and twisting with each punch.
+
The intensity of your workout depends on you. If you don't put 100% effort in like Adriana, you won't get 100% of the body conditioning benefits.
+
Skipping is a great way to increase the speed of your footwork and improve your overall stamina and fitness levels. You can do this in your garden in the summer or as a warm up in the gym.
Don't forget the mental benefits that come from boxing - learning to focus, bouncing back from a hit in sparring sessions and staying determined to win (or just finish the killer workout session).
Boxing classes are available at most
Fitness First clubs
across the UK. Costs for the classes are free with membership; starting from £40 per month.
Do you take boxing classes?
Leave a comment below to
be in with a chance of winning a £100 goodie bag
.
TOP 4 EXERCISE MYTHS BUSTED
FORGET THE GYM! 5 AT-HOME WORKOUT ACCESSORIES
ARE WOMEN IGNORING CERVICAL CANCER SYMPTOMS?