Who says you have to join a gym? If you're not feeling the whole group exercise and sweaty equipment thing there are ways to have a successful workout regime at home.
If you're feeling inspired and want to turn your living room into a home gym, here are the must-have accessories you'll need to work up a sweat...
Exercise ball
Okay, they aren't that easy to store, but there are loads of exercises you can do on these nifty blow up balls. Rest your feet on the ball and do push ups, or lie on it and do crunches, whatever takes your fancy. Plus, if you fall off it Miranda Hart-style no-one is going to laugh at you!
For an amazing abs workout try the
Ball Jacknife
move to get you started. Put your ankles on the ball and extend your legs behind you with your chest facing the floor. Support your body weight on your arms and roll the ball towards your chest by bending your knees and hips. After a short pause roll the ball back to the start position.
Exercise ball, £6.99,
argos.co.uk
.
Dumbbells, medicine balls or empty squash bottles
Handheld weights, weighted basketballs or old squash bottles filled with water are perfect for adding light weight training into your workout. Try doing bicep and tricep curls or just holding your arms straight out in front of you to really feel the burn.
If you're dancing along to a killer Beyonce soundtrack, weighted wrist and ankle cuffs are great if you're trying to tone up wobbly calves and trim those bingo wings.
3kg adjustable ankle and wrist weights, £7.52,
tesco.com
.
Resistance bands
These stretchy cords are perfect for
targeting muscles and burning fat
(and they won't take up much space in your packed wardrobe).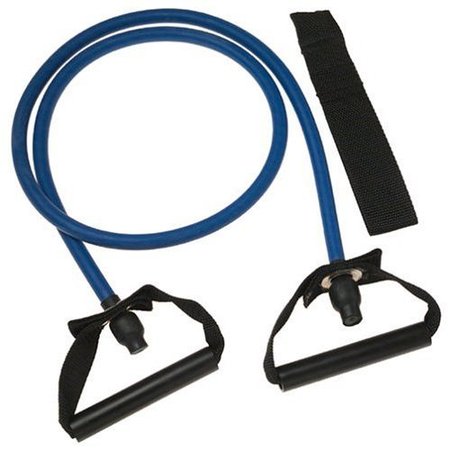 Resistance band, £9.99,
fitnesshealth.co.uk
.
Gym kit
Just because you're at home doesn't mean you can sacrifice the right workout gear. A properly fitting
sports bra
, leggings, good trainers and a tank top will get you in the zone and should make spinning, twisting and crunching more comfortable.
Music, DVD or a friend
Exercising in silence is pretty much the most boring and depressing thing ever! Put on a pumping soundtrack or stick a fitness DVD on so you can stay engaged and motivated for 30-40 minutes. If you're really struggling find a friend who's willing to work out with you and encourage each other to do ten more jumping jacks, ten more crunches and ten more stretches...
What do you think?
Leave a comment below to
be in with a chance of winning a £100 goodie bag
.
FOOD LABELS: THE TRUTH, EXAGGERATIONS AND LIES
HOW TO STOP COMFORT EATING
ADIDAS BY STELLA MCCARTNEY S/S13 COLLECTION