We asked blogger and all-round sex guru, Suzanne Parker, of
SexToyBuzz.com
to reveal what's making her bedroom more exciting this month...
I first became acquainted with the Lelo Gigi way back in 2008 and it really impressed me then. At that time there were few other premium products on the market, which made the Lelo even more exciting. In some ways the same can still be said for 2013 because, despite many copycats and pretenders, Lelo still produce some of the best sex toys around.
Others have tried to imitate the innovate ideas of Lelo (and that's the sincerest form of flattery) but the brand has a certain unbeatable caché.
At first glance there are no radical differences between this later version and the original. But when you look closely you can spot them.
The Lelo Gigi II is more streamlined with the ABS handle's casing having a more refined finish and an almost indiscernible joint. The silicone shaft has a more rounded profile and is formed from a sleeker silicone.
This latest incarnation offers eight modes of vibration whereas the original had five. The two hour charge time offers up to four hours of pleasure instead of the one and a half hours the 'classic' version offered. No batteries required!
I attempted to slip the Gigi inside me without lube and found that it was definitely required. A small drop of water based lube on the tip aided penetration. Once inside I found that despite the small dimensions of this vibe it made its presence felt very effectively. The tip of the Gigi stimulated my G spot and hooked into place. The sign of good design.
This girl is a good all-rounder, offering fun to seasoned users and the novice.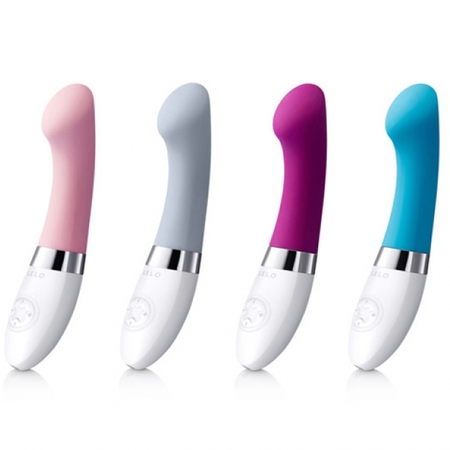 Lelo Gigi 2 Rechargeable G-Spot Vibrator, £78.95,
here
.
Suzanne Parker and husband Alex have been adult bloggers since 2005. Visit her review site SexToysBuzz.com.
What do you think?
THE 8 BEST TV LOVE TRIANGLES
KIM KARDASHIAN WANTS TO GET NAKED
365 DAYS OF SEX: THE INTENSE BREATHE TRICK
4 REASONS WHY YOU DON'T WANT TO HAVE SEX
ALICE IN WONDERLAND-INSPIRED SEX TOYS