We snagged some golden tickets for this summer's hottest new West End musical,
Charlie and the Chocolate Factory
.
Based on the children's story by Roald Dahl, this original musical (with original songs that don't appear in the 1971 movie
Willy Wonka and the Chocolate Factory
) is full of laughs, catchy tunes, unbelievable sets, magic tricks and tap dancing Oompa Loompas. What's not to love?
Here are our top six reasons why you should round-up the family, grab your friends and experience a bit of childhood nostalgia at the theatre this summer...
1. They've got Quentin Blake and Roald Dahl's family on board
The show opens with Quentin's recognisable pen and ink drawings explaining how chocolate is made. This in-your-face jolt of nostalgia is perfect for adults and kids who remember reading Roald's books before bed when they were seven. The programme also features an interview with Ophelia Dahl, who opens up about her father's stories, the musical and her thoughts on director Sam Mendes.
2. The team behind the show is EPIC!
The show is directed by Sam Mendes (of
Skyfall
fame) who's won a Olivier Award, Tony Award, Critic's Choice Award and an Evening Standard Award. They've bagged the choreographer of
Matilda The Musical
, Peter Darling, and the music and lyrics were created by dream duo Marc Shaiman and Scott Whitman - the men behind
Hairspray
,
Catch Me If You Can
and
Smash
. Safe to say this is one professional looking and sounding show.
Listen to Sam Mendes talk about the musical here...
3. Douglas Hodge makes a fantastic Willy Wonka
This four time Olivier award-nominated actor and director is amazing as the eccentric chocolate factory owner. His best number,
Strike That! Reverse It!
, is a fast paced word jumble that will get even the grumpiest theatre goer tapping their feet. Hardcore fans of the original movie will be happy to hear
Pure Imagination
sung by Charlie and Willy Wonka too.
The audience reactions here ...
4. The grandparents song 'The Amazing Tale of Mr. Willy Wonka' is wonderful
The grandparents are awesome, especially their dance in the four poster bed which split apart into four blanket covered wheely trolleys. They dance with canes and make inappropriate jokes (the kind that only adults will only understand). Charlie's mother and father are also excellent - their song
If Your Mother Were Here
will make you feel a little bit teary.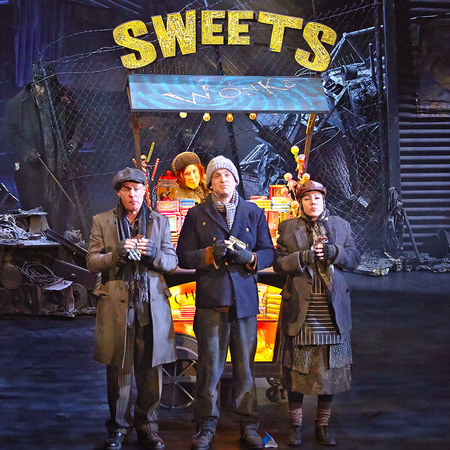 5. The sets and costumes are out of this world
Charlie and his family live in a tiny shack underneath a train track surrounded by a dump. The set is grand, impressive and prone to surprising you at every opportunity. There's a giant TV screen, Willy Wonka's factory, the chocolate waterfall pipe (that claims Augustus Gloop) and Violet Beauregarde really does turn into a big round blueberry!
There's some pretty clever tricks in their too. Think split second costume changes, puppets, disappearing chocolate bars (travelling by Wonka Vision, of course) and flying paper aeroplanes. Anyone under the age of ten will be completely and utterly mesmerised.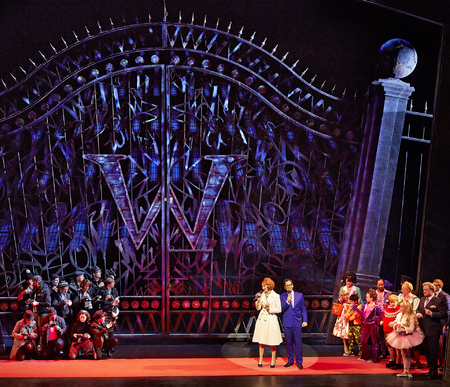 6. The Oompa Loompas tap dance!
Yes you heard us right, the Oompa Loompas are very clever indeed. Using simple trickery they appear on top of pipes, riding squirrels and dancing while controlling the bubblegum machine. You won't be able to resist smiling!
Check out the trailer below...
Performances are from Monday to Saturday at the Theatre Royal Drury Lane. Tickets from £25-£92.50 For more information, visit the official website
here
.
Will you be going to see this musical?
REVIEW: FISH & CHIP TUESDAYS AT CLOSE HOUSE, NEWCASTLE
BAR REVIEW: MINI COCKTAILS AT HOTEL INDIGO, NEWCASTLE
WIN A RIGHT ROYAL PACKAGE TO CELEBRATE BABY GEORGE