Why go?
Before you dig out your tin hat and apache helicopter, you should know that MASH has nothing to do with the hit 1970s comedy of the same name.
And as brilliant as the idea of a Korean hospital comedy/restaurant sounds, it's not a patch on the real MASH. The large black capitals stand for Modern American Steak House – and that's exactly what you get.
The 'modern' aspect is reflected in the décor. Forget cowhides on the wall – the restaurant is more like a nightclub, with a spiral staircase leading you down to a dark Titanic-esque ballroom-sized dining room.
With its red banquettes and shady lamps, it's very American casino-cum-disco – as if at any moment the intimate booth seating will all slide to edges of the room and a dancefloor will open up. For extra quirk, there are a couple of Damien Hirst-type cabinets containing large cuts of meat.
Despite the second letter of its name standing for 'American', MASH actually started life in Denmark. So while it's dark and New Yorky and banquette-filled, it's also super-slick and high on attention-to-detail. It's an enjoyable and unexpected blend of Scandi-quality and American-comfort.
And we loved just how big everything was. The American-sized booths were particularly huge (we could have parked another two fannies in there easily) which was probably just as well after we'd attacked the menu.
Eat?
The menu features more steaks than a vampire-killing convention and is arranged like a wine list – you choose by country, which includes Uraguay, Denmark, America and Australia.
According to our waitress, Danish steak is a more 'complicated' meat – firm and colourful, and popular among men. Meanwhile, she told us, ladies have been opting for a smaller cut of Uraguayan beef. As it's a younger cow, the beef contains less fat. And it's not the size of a Frisbee. Sold!
The plump fillet was superb – like biting into a particularly fleshy butt cheek (urm, we imagine…) There wasn't a single bit of fat on it and we ate the whole thing.
Our friend's heftier looking long bone rib-eye was equally tender and cooked to bloody (medium rare) perfection – so much so, that halfway through, his plate looked like a scene from
Saw
. Totally in a good way.
We've found that a good steak always elicits vaguely pornographic noises, so we were grateful that the booths at MASH weren't too close together. The only thing that tempered our euphoria were the plates themselves – perhaps in Denmark they don't realise how much their red-ringed white flatware looks like that from our beloved Little Chef…
Alongside our steaks, we had some sides, including a dish of creamy mac and cheese, a bowl of sweetcorn with bacon, and a plate of fries. We're fondly calling it the Heart Attack Picnic.
We finished with a tasty dish of apple crumble and fresh whipped cream, which, if personified, would have been a pigtailed milkmaid in a gingham dress. It was delicious.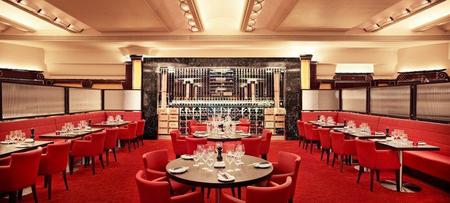 Drink?
It would be wrong to drink anything other than a full-bodied, head-spinning, snog-worthy red with these steaks. We had a glass of fruit-tastic malbec and a lighter syrah.
We finished with a cornflower yellow Tokaji sweet wine which tasted like an apple orchard in a glass and had a chewy after-flavour of apricots.
The lowdown
Dinner for two with wine £120
MASH, 77 Brewer Street, London, W1F 9ZN
0207 734 2608,
mashsteak.co.uk
ROBERTO CAVALLI'S GUIDE TO BEING A PARTY ANIMAL
REVIEW: THE TRUSCOTT ARMS, LONDON
REVIEW: LONDON'S MANICOMIO CITY