Why go?
We're not snobs, but we were v. excited to find out that the head chef at gastropub The Truscott Arms, Etienne Bruwer, used to work at the Michelin-starred Galvin at Windows.
According to his biog, the South African Etienne is a butcher, a baker, (a lover, a thinker…) who has carried his pedigree chops across the world to end up in a kitchen in Maida Vale. Lucky us.
Everything about The Truscott Arms says 'smart'. The menus, the Farrow and Ball grey walls, the tartan chair upholstery… We felt like we were eating inside an interiors magazine. Even the website is smart – like a Pinterest board of all that is good about the sceptred Isles of Great Britain.
And if the décor is 'five A Levels' smart, then the food is Steven Hawkings rather-bloody-bright. The small, quietly accomplished menu uses the finest British seasonal ingredients and serves them up with a loving attention to detail. Add to this some of the most attentive service we've ever received and we were feeling pretty special.
Considering a similar meal at a Michelin starred venue would cost you at least double the price, it really is fantastic value. Welcome to Maida Vale, Etienne.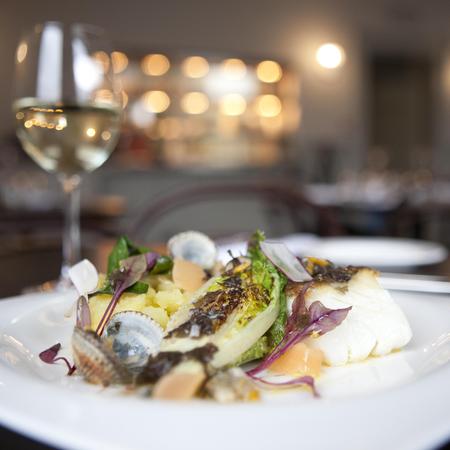 Eat?
The small menu of British classics whispers rather than shouts, and makes a refreshing change to a lot of London's recently opened joints offering fusion-everything-with-a-twist.
The food is gorgeous. Our starter of thickly-cut smoked salmon with cider jelly, endive and pickled cucumber looked like an Old Masters painting and tasted better. Meanwhile, the ham hock terrine retained its salty pigginess, and was duly snuffled up.
We followed with a 35 day dry-aged ribeye steak, which almost made us cry tears of meat-induced joy. The tender slices of beef had been cooked 'sous vide' – inside an airtight plastic bag at a low temperature to keep it juicy. It was finished under the grill to give the outside a textured bite.
The meat was served with new potatoes cooked in duck fat, and a medley of roasted veg. As if we weren't spoilt enough, it also came with a bowl of bone marrow and a bowl of foie gras. The bone marrow didn't do it for us (too much like something you'd find in Sweeny Todd's basin) but the foie gras was naughty but nice – as long as we didn't think too hard about what it was.
We finished with a baked raspberry cheesecake and a generous cheeseboard packed with Cashel blue, Montgomery's cheddar and a cider-washed Grosmont.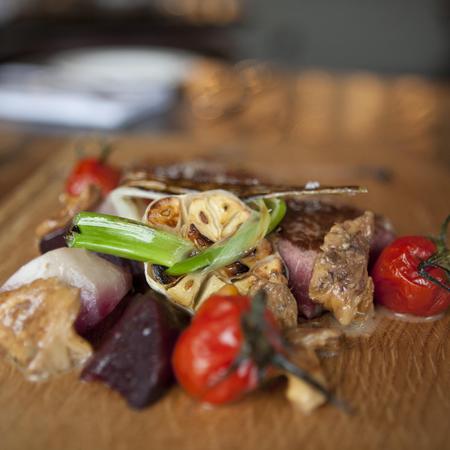 Drink?
The cocktail menu features drinks as crisp as Keira Knightley's accent. They'll make you want to say 'Spring fizz, dahhhling' all night. Try the Lady Truscott, which mixes lavender infused gin, muddled blackberry, crushed ice and myrtle.
Wine lovers won't be disappointed as the drinks menu is good and long. Ask the waiter for help if you want to match each course with a different glass.
We'd recommend the minerally and citrusy Italian Pinot Bianco with fish, and the mellow Aussie Shiraz with the ham hock terrine. Then, for something different, give the Chateau Ksara a try with your main course. It's red wine from Lebanon – and very good.
The lowdown
Dinner for two with wine matching £120
The Truscott Arms, 55 Shirland Rd
Maida Vale, 
W9 2JD
020 7266 9198,
thetruscottarms.com
BOOZY WEEKEND COCKTAIL RECIPE COLLECTION
REVIEW: TAPAS AT SALVADOR AND AMANDA, LONDON
BAR REVIEW: LOST & CO, LONDON