Why go?
We can't help ourselves – there's just something about travelling South of the Thames that seems like such an effort. Of course, we don't want to shut ourselves off from half of the capital, so we've started looking at the river as a benchmark – if something is able to lure us over, it's probably worth it.
Lost & Co is one such place. It's a funky pub with a New-Yorky vibe. Trendy but not too much, with a corking cocktail menu and lip-smacking snacks – in other words, just our sort of gaff.
During the week it's a laid back place for after work drinks, while the weekends see live music ramping up the noise and atmosphere. And thanks to its convenient location on Putney High Street, it's chock full of bright young creatives, making it a good place to pull…Probably. (We took ourselves back across the river, thank you very much.)
Eat
Forget a packet of peanuts, the food here blows the term 'pub grub' out of the water. OK, so you won't get a carvery dinner, but the deceptively modestly-named bar menu is substantial.
The 12" Death by Cheese pizza, with a sage and butter base, was like high-quality hangover food – in the best possible way. And we're going back for the Blue Boy, which combines chicken, celery, a blue cheese base and buffalo sauce. #Heartattack.
We thought we knew all there was to know about chicken wings, but Lost's unusual peanut and strawberry ones left us speechless. Mainly because we were stuffing our faces. Make sure to try the syrupy sweet cola and bourbon ones, too, as well as a Blushing Hound hotdog – made with chorizo, sundried tomato and garlic pesto.
Don't go if you're on a diet. It's impossible to resist once the plates start coming out. We went through the whole 'We couldn't possibly manage all this…' routine, before devouring the lot. Oops.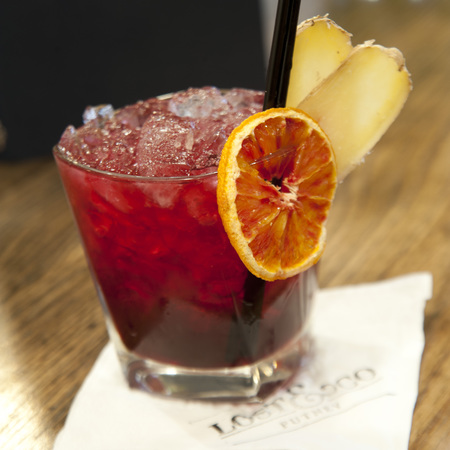 Drink
The cocktails may be creative, but they're easy to drink, too. The Stoli Pop slipped down a treat, thanks to the popcorn-infused liquor with egg white, lime juice, and orange bitters.
Meanwhile, Harry's Blues was a moreish and summery sip – vodka, blueberry and ginger syrup, lime and brown sugar – served with a nugget of sweet syrupy ginger.
There are off-menu options too – just tell the barmen what sort of thing you like and let him rustle something up. We witnessed the creation of our new fave – 'The St. Jimi', named after the Hendricks gin and Saint Germain elderflower liqueur that went into it.
We also had a few cheeky shots of coconut liquor and some eye-squintingly good limoncello that our barmen had made that week. Let's just say, if you're happy to get a bit squiffy, you'll have a grand old time.
The Lowdown
Cocktails £8.50 each, food from £6.
Lost & Co, 160 Putney High Street, London, SW15, 1RT. 020 8780 2235,
lostputney.co.uk
REVIEW: W LEICESTER SQUARE SUNDAY BRUNCH
REVIEW: JAPANESE FUSION AT SUSHINHO, LONDON
REVIEW: CHAMPAGNE + FROMAGE BISTRO, LONDON