Why go?
There's something about French food that brings out the romantic in us. Even after an awkward moment when we laughed so hard that fizz came out of our nose, Champagne + Fromage still made us feel like Julie Delpy in
Before Sunrise
. Incroyable!
C+F is a pretty casual affair - it's actually a shop-cum-bistro, which means it sells cheeses and has a few tables at the back if you want to eat in. Yet, that's not to say the bistro is an afterthought. It's all very well done. Rustic wooden tables and mismatched furniture sit alongside chalkboard walls and applebox shelving filled with jars and tins of French delicacies sourced from tiny suppliers across the channel.
If the decor is cool like Charlotte Gainsbourg, the menu rocks the same pared-back chicness. Choose between five champagnes by the glass and a short but sweet list of nibbly French classics. If you like what you sample, there's a takeaway menu too – making it a handy destination for lunchtime cheese-cravings.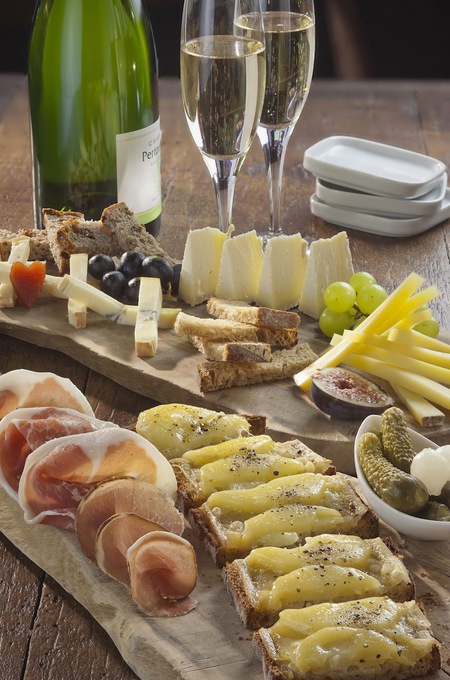 Eat?
We dribbled over the menu before opting for a fromage board and a couple of tartines. The shop offers more than 30 soft, hard, blue and goats cheeses, so if you're feeling overwhelmed, ask one of the French waitresses for advice. We recommend the buttery and nutty tomme de brebis.
Save rooms for the delicious tartines. Slices of homemade sourdough topped with charcuterie or fruit and cheese, and drizzled with rich olive oil – they're kind of like posh cheese on toast.
We tried the artery-busting Savoyarde, which combined melted Raclette cheese, thinly sliced potatoes, onions, fennel, salami and corsican ham. For something 'healthier' (well, it did have fruit in it...) we had the Champagne tartine, with sauteed pear and melted Langres cheese. Happiness on a plate.
Puddings were a cooling champagne sorbet with berries (light but decadent), and a tall glass of strawberry 'gazpacho' with mint and pink champagne. Now if that's not a romantic end to a meal, we don't know what is.
Drink?
It would be rude to say 'non' to the champagne. You can buy a bottle (from £50), or do as we did and try by the glass.
Start with the fun Grand Cru rose, and see if you can pick out the flavours of summer strawberries and peaches. Apparently it's also very good with milk chocolate.
Move on to the Furdyna Reserve, which is a classic, easy-drinker and will go surprisingly well with your savoury dishes, then finish with the creamy, bubbly Lacroix demi-sec.
The lowdown
Champagne around £10 per glass, Tartines £8 each, Charcuterie and fromage boards £8 each
Champagne + Fromage, 22 Wellington Street London, Covent Garden, London, WC2E 7DD
0207 2401604,
frenchbubbles.co.uk/Champagne-Fromage
BAR REVIEW: SIMMONS BAR, KING'S CROSS
REVIEW: CONVEYOR BELT SUSHI GETS A MAKEOVER AT K10
REVIEW: DIM SUM BRUNCH AT ASIA DE CUBA