Why go?
Jewel Piccadilly at the heart of London's West End has had a bit of an extreme makeover. The bar has been completely renovated into a chic cocktail institution and foodie hotspot for anyone who wants to kick back with friends and loosen up after a long day at the office.
This sizeable bar is now bursting with character-filled rooms that are perfect for first-daters, loved up couples, friends and those seeking a slightly more chilled night. Our favourite is the Ruby Room - a Moroccan inspired, sinfully decadent dark room, complete with fabric draped ceilings, low lighting and candlelit tables.
If you're after somewhere a little bit brighter, make your way to Bar Blanca the brighter cousin of the Ruby Room featuring luxe white leather seats and large booths for socialising.
There are two private rooms on offer too with a Moulin Rouge meets old English gentleman's club theme - perfect for birthday parties!
Drink?
The real highlight of Jewel Bar is the tasty range of twelve mojitos, each mixed to perfection with fresh sugar syrup, squeezed limes and absolutely no sticky and bitter purées. We sampled the mouth-watering Watermelon Mojito and the flirty summery Lemon Drizzle version too, but we couldn't get enough of the Wimbledon, a perfect mix of English summer strawberries and cream!
If you're not taken by the mojitos menu there are plenty of classic cocktails (we love a Long Island Ice Tea), Martinis, sparkling drinks and shooters to tickle your fancy.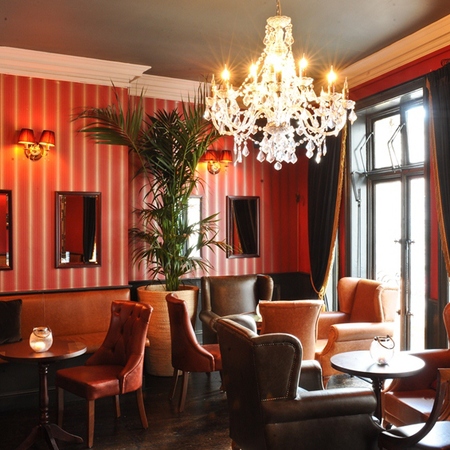 Eat?
This isn't just your average burger and beer joint, so expect to see more exciting and experimental items on the Jewel Bar menu. Try the Madras Chicken Skewers with mango salsa or the Spiced Lamb Samosas for a little taste of Morocco in the Ruby Room, or share big platters of British classics (meat pies, scampi, beer-battered cod) or Crispy Peking Duck with pancakes and sweet plum sauce. Delish!
The lowdown
Cocktails fro £8.50. Food from £4.50.
Food from 4-6 Glasshouse Street, London, W1B 5DQ, 020 7478 0780
jewelpiccadilly.co.uk
.
What do you think?
BAR REVIEW: 1920S DRINKING AT THE LUGGAGE ROOM
LONDON BAR REVIEW: SEARCYS CHAMPAGNE BAR
MOTHER'S DAY: AFTERNOON TEA AT HARRODS