Why go?
The brainchild of the team behind Marylebone speakeasy Purl, the Worship Street Whistling Shop (Or WS2 as it's known on the street) claims to combine 'the charm of Victorian squalor, with the elegance of grand gin palaces'.
The basement bar looks like the Old Curiosity Shop mixed with a mad scientist's lair – think Doctor Frankenstein serving drinks in your nan's sherry glasses. If you're after a flirtini, you'll be disappointed, but if you fancy experimenting with 'high pressure hydrosol' or a touch of 'removed cream', you'll get on just fine.
For bar-goers wanting something extra, WS2 also boasts a 'Dram Shop' complete with vintage bottlings and an Honesty Bar, plus a 'Cocktail Emporium' for people looking for a 'multi-sensory experience'.
Eat?
The cocktails are all heavy on the booze, so ordering nibbles is a good idea. There's a somewhat random selection on offer – scotch eggs and pork pies are listed next to burgers and baked camembert. Or you can keep things simple and go for olives, chips or the very tasty vegetable crisps.
Drink?
The drinks menu offers a fun approach to Victoriana-style cocktails. The unusual ingredients and processes make choosing a drink feel like a game of boozy Russian roulette – it's almost impossible to guess what the resulting concoction will taste like.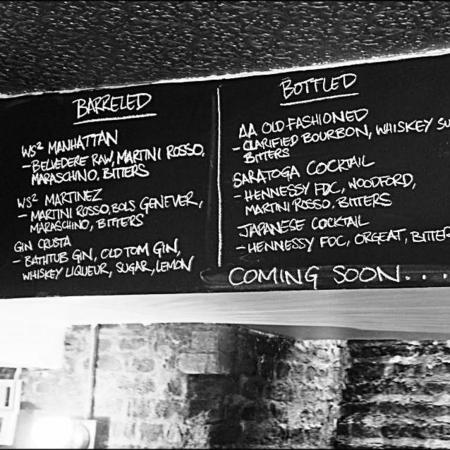 The Deadly Nightshade is a sweet and smoky cognac blend served with a salty aubergine crisp, while the Panacea is frothy and fragrant with a hint of lavender.
Brave drinkers should try something involving 'chip pan bitters' or 'Hereford soil distillate' – and watch the bar staff 'photo oxidise' and 'irradiate' them as the menu promises.
The low down
Cocktails at WSWS are around £10 and food is priced £3-16.
Worship Street Whistling Shop, 63 Worship St London, EC2A 2DU. 020 7247 0015,
whistlingshop.com
Have you been for a drink here? Let us know what you think below to
be in with a chance of winning a £100 goodie bag
CONTEMPORARY DINING IN AN OLD COTSWOLDS MANOR
THE WORLD'S BEST LOCATIONS FOR AFTERNOON TEA
DINE IN STYLE ON THE ORIENT EXPRESS