It's the quarter finals of
The Great British Bake Off
tonight (8 October) and the contestants are gearing up to work with unconventional flours to create unusual desserts that push their creativity to the max.
For the technical challenge, the bakers will be tasked with making a dacquoise - three layers of fragile coiled
meringue
, sandwiched with coffee custard and topped with hazelnut praline, a dessert which also happens to be gluten free.
If you're up for trying a gluten-free dessert, but don't have the energy to make meringue, coffee custard-y, praline-y creations that take forever and a day, then this chocolate torte recipe is for you.
Created by 2012 champion
John Whaite
exclusively for
National Baking Week
(14-20 October), it's rich, moist, packed with pistachios and perfect with a cup of tea.
John revealed, "
Gluten intolerance
seems to becoming more and more common. In my eyes though, that is no reason not to enjoy home baked goodies. This torte is spectacular, and really hits the sweet spot. Due to the large amount of nuts, it does keep particularly well and is probably even better the day after it is made!"
Gluten free pistachio and chocolate torteServes:
8-10
You will need:
23cm loose bottomed round cake tin, greased and the base lined with baking paper
Food Processor or Mini Chopper
INGREDIENTS
6 large eggs, separated
150g pistachio kernels, unsalted and de-shelled
120g ground almonds
30g cocoa powder
1tsp gluten free baking powder
150g Billington's Unrefined
Golden Caster Sugar
150g Billington's Unrefined
Light Muscovado Sugar
For the Topping:
100g milk chocolate
100g white chocolate
METHOD
Preheat the oven to 170C/150C fan/gas mark 3.

Place the egg yolks and one white into a large mixing bowl, and the remaining whites into another.

Place the pistachios, ground almonds, cocoa powder, baking powder and Billington's sugars into a food processor or Mini Chopper.

Blitz into a fine powder and beat this powder into the egg yolks to make a very thick batter.

In a separate Pyrex mixing bowl, whisk the egg whites until stiff peaks form.

Gently scoop these on top of the other mixture, and fold together carefully – you will need a bit of elbow grease, but try not to deflate the egg whites.

When well incorporated, pour this into the prepared baking tin, and into the preheated oven.

Bake for 40-50 minutes, or until the torte gently springs back when lightly touched.

Allow to cool for 5 minutes, before turning out from the tin and resting on a wire rack until completely cool.

To finish, melt the chocolates separately – the best way is in Pyrex heatproof bowls over pans of barely simmering water.

Drizzle the chocolates randomly over the torte to create a messy, chocolaty pattern.
PREP TIME
30-45 minutes
COOK TIME
Less than an hour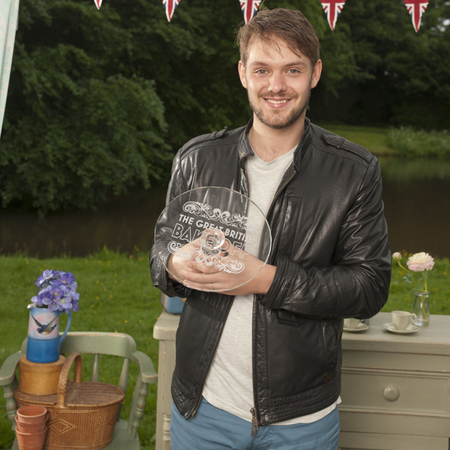 READ:
John Whaite Bakes: Recipes for Every Day and Every Mood,
£20,
here.
Do you eat gluten-free?
VEGAN AND GLUTEN FREE VANILLA CAKE
GREAT BRITISH BAKE OFF DRINKING GAME
FIND MORE DESSERT RECIPES