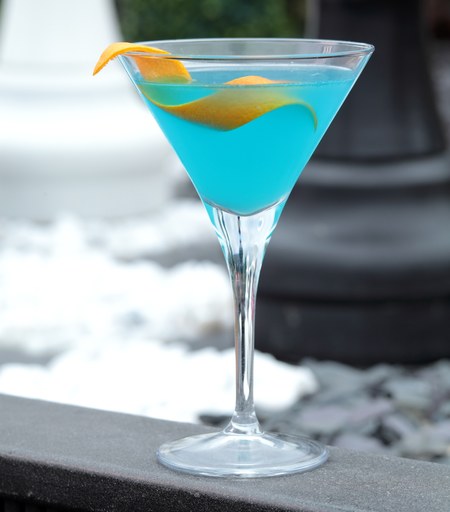 Fancy a refreshing, delicious and guilt-free cocktail? Want to combine your two greatest loves - enjoying yourself and reading Handbag.com? Then look no further than our official
Handbag Blue Gin and Orange Cocktail
designed exclusively for us by expert mixologist and Creative Director at
All About the Cocktail
, Charlie McCarthy.
Charlie told us, "It was important for me to capture the essence of Handbag.com and evoke a powerful flavour combination with this seductive concoction. Blue cocktails are back. Big time!"
Yay, it's so 80s meets
Sex and the City
. We love it!
Charlie made sure there was no added sugar or sweet liquids to cut back on pesky calories. All the sweetness comes from the vitamin C and antioxidant-rich lychee juice. Result.
Charlie added, "It is exciting and stylish, with interesting and modern ingredients – just like the website with its content for the stylish, contemporary woman. The twist of orange represents the twist in the articles – no two are ever the same so there's always something different to read."
Aaahhh schucks...Charlie you're making us blush! Give it a try for yourself with the recipe below;
The Handbag Blue Gin and Orange Cocktail
INGREDIENTS
35ml Bombay Sapphire Gin
35ml Lychee juice
10ml Blue Curacao
15ml Lime
Orange zest
You will also need:
Shaker
Strainer
Cubed ice
Glass: Martini
METHOD
Add all liquid ingredients to your shaker, top with cubed ice and shake hard. Fine strain into a chilled Martini glass. Garnish with orange zest and enjoy.
A full range of 'Headliner Cocktails' has been commissioned by travel retailer
World Duty Free
to celebrate its Summer Drinks Festival. Find more recipes inspired by Jay Z, Justin Timberlake and Beyonce
here
.
What do you think of our bespoke
Handbag.com
cocktail?
25 HOME BAR ESSENTIALS FOR PERFECT COCKTAILS
ALCOHOL MADE FROM COFFEE GRINDS NOW EXISTS
HOW TO MAKE A BOOZED-UP WATERMELON