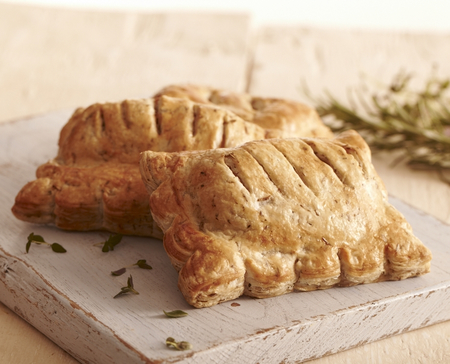 Using ready rolled pastry to wrap lamb fillets makes a posh dinner easier. Serve one of these parcels with a fresh medley of vegetables and some rich gravy. Delish...
Lamb in Herb Pastry Parcels
Makes:
4
INGREDIENTS
1 pack Jus-Rol Rosemary & Thyme Puff Sheet
Beaten egg to glaze
300g trimmed lamb fillet or lamb steaks cut into 4 equal pieces
1 tbsp. olive oil
1 medium red onion (120g) peeled and thinly sliced
METHOD
Preheat oven to 220⁰C (200⁰C for fan assisted ovens). Gas Mark 7.

Cut the lamb into four equal pieces, heat the oil in a frying pan and quickly seal the meat on all sides, remove from pan and allow to cool.

Then add the onions to the pan and cook over a gentle heat until they are softened for approximately five minutes. Remove from the pan and allow to cool on kitchen paper.

Unroll the pastry sheet and cut into 4 equal rectangles. Spread the cooked onions onto each pastry piece, placing them on the bottom half, then finish by adding a piece of lamb on top of the onions.

Lightly brush the pastry edges with some of the beaten egg and fold the plain half over the filling, pressing the edges firmly together to seal.

Trim the edges with a sharp knife and flute if desired. Make several cuts in the top to decorate and allow the steam to escape.

Brush with the rest of the beaten egg, place on a lined baking tray and bake for twenty minutes. Serve hot with vegetables of your choice.
PREP TIME
20 mins
COOK TIME
40 mins
For more pastry tips and recipe ideas visit
jusrol.co.uk
.
Will you be giving this recipe a try?
BBQ IDEAS: ASIAN LAMB SKEWERS
FATHER'S DAY RECIPE: SLOW COOKED LAMB
TANDOORI-STYLE LAMB KOFTAS RECIPE