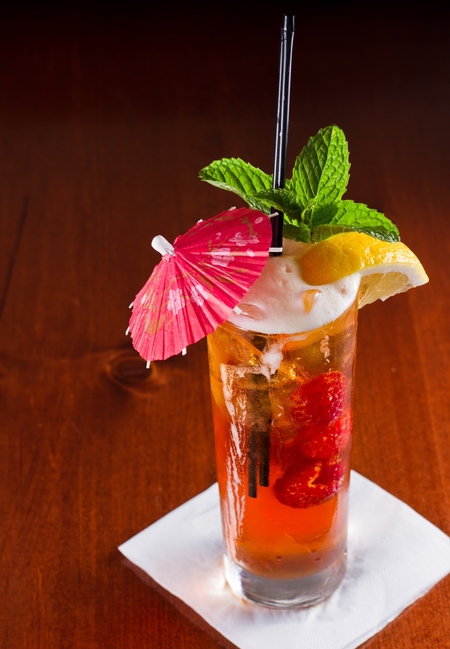 Eurovision is by far the most fabulous, weird, wonderful and generally insane music competition on earth, so what better way to celebrate than with a cocktail-infused shindig?!
Jack Williams, Head Mixologist for cocktail specialists
Late Night London
, has created this Euro-inspired iced tea cocktail that's a real show-stopper.
Jack says, "This is a Eurovision tipple and a half, packing a punch with five different spirits from across the continent. With vodka from Russia, Cointreau from France, Disaronno from Italy, Goldschlager from Switzerland and gin from Blighty, this is the Euro-drink to end all Euro-drinks. Julmust is a Swedish cola style spiced drink - it's great stuff!
INGREDIENTS
Russia -15ml Vodka
France - 5ml Cointreau
Italy - 15ml Disaronno
Switzerland -15ml Goldschlager
England - 15ml dry gin
Turkey - Lime juice
Sweden - JulMust to top up
Garnish with berries, lemon slices and a Euro-trash umbrella!
METHOD
Add the vodka, Cointreau, Disaronno, Goldschlager, gin and lime juice to a cocktail shaker and shake with ice.
Then simply pour into a tall glass, add the Swedish Julmust to top up and enjoy… douze points!
If you can't find any JulMust, then add some coke, cinnamon essence and chopped oranges and apples to the mixture instead.
Will you be giving this a try?
GREAT GATSBY SILVER BRONX COCKTAIL RECIPE
DRINK RECIPE: TRY THIS STRAWBERRY ALCOHOL-FREE COCKTAIL
BARTENDERS' BALL COCKTAIL RECIPE: THE MARY JEAN
COCKTAIL RECIPE: WHAM JAM, THANK YOU MA'AM!