Celebs like Victoria Beckham, Robbie Williams and Kelly Brook have all been cooking up a storm with
Honestly Healthy
and now we've got our hands on some killer recipes from the book!
This tasty vegetable bake follows the 'alkaline diet' principles to reduce the amount of internal stress on the body. Find out more
here
.
Layered Vegetable Bake
Natasha Corrett says, "This knocks the socks off any traditional lasagne I've ever tasted! Instead of the usual pasta layers I have used colourful vegetables, so it leaves you feeling much, much lighter but totally satisfied."
Serves:
4
Ingredients:
80g (3oz/scant ½ cup) Puy lentils
4 tbsp olive oil, plus extra for brushing
1 beef tomato, roughly chopped
1 garlic clove, sliced
1 beetroot (beet), cut into small dice
½ tsp tamari
1 tsp dried, chopped chives
Pinch of ground cumin
2 tbsp water
400g (13oz) butternut squash, thinly sliced lengthways
300g (10oz) courgettes (zucchini), thinly sliced lengthways
Method:
Preheat the oven to 170°C/340°F/gas mark 3½.
Place the lentils in a small pan, cover with water, bring to the boil, then simmer for 10–15 minutes, until al dente. Drain and set aside.
Meanwhile, heat the olive oil in a large pan and squash the tomato into the oil to make a base for the sauce.
Add the garlic and beetroot (beet) with the tamari, chives and a pinch of cumin. Add the water and cook over a medium heat for 15 minutes, or until reduced to a thick sauce.
Add the lentils to the pan with a splash more water and simmer for a further 5 minutes.
Layer half the butternut squash and a third of the courgettes (zucchini) in an ovenproof dish and spread over half the lentil sauce.
Repeat the layers, finishing with the remaining courgettes (zucchini). Brush the courgettes (zucchini) generously with olive oil, then bake for 45 minutes, or until the vegetables are just tender.
You may also like to try using the parsley oil from the Pomegranate and Mozzarella Salad (see page 98) instead of olive oil on the top.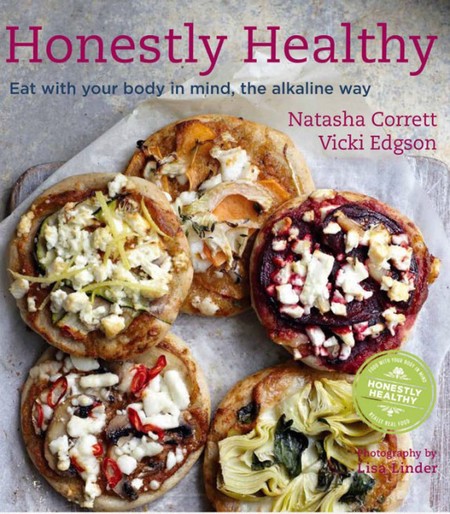 Honestly Healthy: Eat with your body in mind the alkaline way by Natasha Corrett and Vicki Edgson, published by Jacqui Small, £20 Hardback.Will you be giving this a try?
VICTORIA BECKHAM AND KELLY BROOK LOVE HONESTLY HEALTHY COOKBOOK
HONESTLY HEALTHY LAUNCH DELIVERY SERVICE
KELLY BROOK CHALLENGES ROSIE HUNTINGTON WHITELEY WITH CUPCAKE BREAKFAST