Dad's penne all'arrabbiata with crispy pancetta & basil
Lorraine says, "On one of my weekend trips to my dad's house, way back in my youth, he served up a steaming hot bowl of pasta. When I asked him what it was, he said it was 'pasta with a hot, angry sauce' — the very tasty penne all'arrabbiata. I love eating at my dad's. His cooking is Italian, warm and welcoming, so it is a pleasure to be able to share this recipe with you."
Time from start to finish:
25 minutes
Serves:
4
Equipment:
Medium sauté pan, kettle, large pan with lid, colander
Ingredients:
Olive oil
2 garlic cloves
150g cubed pancetta (the one with herbs added already is nice if you can find it)
1 red chilli
2 x 400g tins of cherry tomatoes (tinned chopped tomatoes will work well also)
1 small glass of red wine
3 squidges of tomato purée
2 tsp paprika
2 tsp dried oregano
2 sprigs of fresh thyme
350g penne pasta
Extra virgin olive oil
1–2 tsp caster sugar (optional)
Salt and freshly ground black pepper
To serve:
1 bunch of fresh basil
50g Parmesan cheese
Method:
Put a small drizzle of olive oil into a medium sauté pan on a medium heat. Peel and finely chop the garlic while you wait. Once the oil is hot, tip in the pancetta and let it cook away for a few minutes, stirring it from time to time, until it is crisp and golden brown all over.
Then add the garlic and cook for 1 minute more, being careful that it doesn't burn.
Chop up the chilli, leaving the seeds in if you like it very hot. Throw it into the pan along with the tinned tomatoes, red wine, tomato purée, paprikaand oregano.
Pick the leaves from the thyme and add them with some salt and pepper then leave everything to bubble away for about 15 minutes. Stir the sauce now and again so that it does not catch on the bottom.
While this cooks, put the kettle on to boil for the pasta. Put a large pan on the hob, pour in the boiling water, tip in the pasta and cook according to the packet instructions.
Once the pasta is cooked, drain it well and then return it to the pan it was cooked in. Drizzle with some extra virgin olive oil, season with salt and pepper and put the lid on to keep it warm while you finish the sauce.
The sauce should now be lovely and rich and thick. Remove it from the heat and give it a taste. If the tomatoes are still tasting a bit acidic, add a teaspoon or two of caster sugar and return it to the heat for a moment or so.
Then taste again, adding a little salt and pepper if you feel it needs it.
Tip the pasta into the sauce, mix well and then divide between four bowls. I am told that parsley is the traditional herb to top this dish, but I love some ripped-up basil and a little freshly grated Parmesan to finish.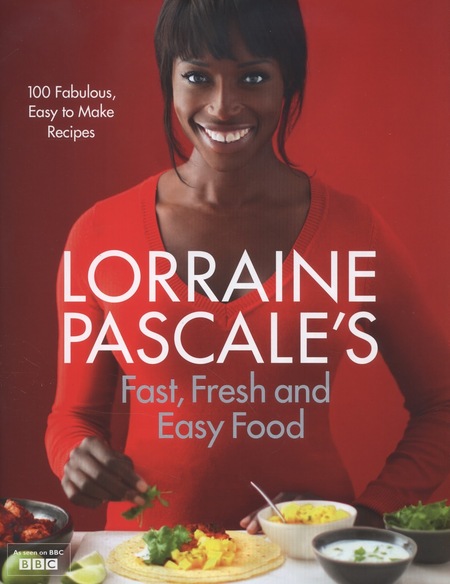 The recipe is taken from
Lorraine Pascale's Fast, Fresh and Easy Food
, £20, HarperCollins.
Will you try this recipe?
Leave a comment below to
be in with a chance of winning a £100 goodie bag
.
LORRAINE PASCALE ON JOBS, INSPIRATION AND PASSION
FREDERICK FORSTER'S BEEF FILLET RECIPE
VALENTINE'S DAY DESSERT RECIPES