Shopping for blokes is a bit of a mission impossible situation at the best of times, so finding a suitable gift on Valentine's is a nightmare. Luckily, the clever people at Guinness have come up with these dessert recipes infused with the boozy stout to put a smile on your chap's face
Here's how to make a hefty supply of dark chocolate truffles...
Guinness Chocolate TrufflesMakes:
25
Ingredients:
1 kg dark chocolate in small chunks
400ml cream
100ml Guinness
Zest of 1 Orange
Cocoa or coconut powder
Method:
Add the cream and Guinness to a saucepan and bring to the boil. Add the chocolate and grated orange zest.
Mix together until the chocolate is fully melted. Leave the chocolate mix until it is cool to the touch, but not set.
Take generous tea spoons of the mixture and roll in your hands to form small round truffles, dust in cocoa powder or coconut powder. Set in the fridge for 2 - 3 hours.
If this doesn't tickle your fancy, try this mousse recipe and serve in beer glasses for a testosterone touch...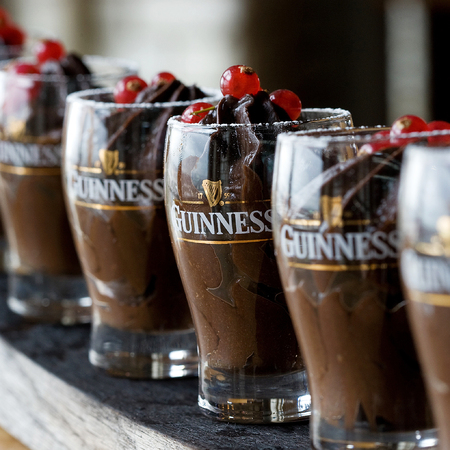 Guinness Chocolate MousseServes:
6
Ingredients:
10 egg yolks
10 egg whites, whisked
350g dark chocolate
1/4lb butter
100g caster sugar
100ml Guinness draught
Method:
Melt the dark chocolate and butter in a bain-marie and add in the Guinness draught. Beat the egg yolks and caster sugar until light and fluffy.
Mix in the melted chocolate mixture in with egg yolks and slowly fold in the whisked egg whites until everything is smooth. Transfer the mousse to serving glasses and chill.
Serve with fresh raspberries or other seasonal berries
Will you be trying these tasty desserts?
Leave a comment below to
be in with a chance of winning a £100 goodie bag
.
DESSERT RECIPE: RHUBARB AND GINGER TRIFLE
DESSERT RECIPE: STRAWBERRY AND ROSE JELLIES
INDIAN RECIPE: TURKEY BIRYANI WITH RICE