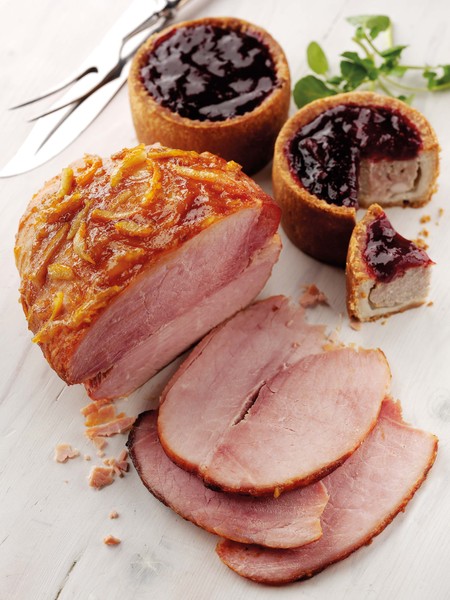 We are addicted to ham. There, we said it. And this Christmas we are going pro and are going to cook our own hunk of gammon. All you need is a spare hour and a store cupboard full of mulled wine spices...
Marmalade and mustard glazed gammon
Ingredients:
For the gammon:
1 x 675g piece gammon
½ onion, sliced
1 small carrot, cut into chunks
1 bayleaf
2 parsley stalks
6 black peppercorns
20 cloves
For the marmalade:
1 orange (peel only, see below)
2 Tablespoons of whisky
1 Tablespoon orange juice
1 Tablespoon brown sugar
2 Tablespoons water
Salt and pepper
Method:
Prepare the orange peel by removing strips of zest from the orange using a potato peeler or sharp knife. Cut the zest into 2mm wide shreds. Put the shreds of peel into a small saucepan with just enough water to cover and boil for 5 minutes. Drain and allow to cool.
Place the gammon in a saucepan and cover with cold water. Bring it up to the boil, reduce the heat and simmer for 20 minutes to remove some of the salt. Remove from the saucepan and pour away the water.
Return the gammon to the pan, cover with cold water and add the onion, carrot, bayleaf, parsley stalks and peppercorns. Bring to the boil, reduce the heat to a slow simmer and allow to cook for 20 minutes per 450g.
While the gammon is cooking make the marmalade glaze: Place all the marmalade ingredients (including the cooled orange shreds) into a small pan. Bring to a simmer and cook for 5 minutes, stirring occasionally until the mixture has thickened and is syrupy. Allow to cool.
Preheat the oven to 220ºC/424ºF/Gas Mark 7.
Leave the gammon to cool slightly in the stock. Then lift out and carefully peel back and remove the skin and a little of the fat.
Spread the marmalade evenly over the top and sides of the gammon.
Place in the oven on a lined baking tray and bake for 15 minutes or so until dark and sticky.
Top Tips:
For a decorative finish after peeling off the skin, score the fat to create a diamond pattern and stud the points of each diamond with a clove before coating in marmalade and glazing.
For more recipes, food tips and Christmas ideas visit
ASDA's Extra Special site
.
What do you think?
Leave a comment below to
be in with a chance of winning a £100 goodie bag
PUFF PASTY CHRISTMAS TREE COOKIES RECIPE
GRANDMA'S JAM ROLY-POLY
MORE CHRISTMAS RECIPES