Christmas is all about decedent eating and feeling like a kid again. Nothing could combine those things more than a festive chocolate log.
Taken from
Pippa Middleton
's party planning book,
Celebrate
, the Duchess of Cambridge's sister gives her recipe for making this Christmas must have.
Pippa explains, "A chocolate Yule log might be a welcome alternative to Christmas pudding, decorated with woodland symbols or perhaps covered with white chocolate icing to create a snowy scene."
Pippa Middleton's chocolate Yule logIngredients
4 eggs
125g caster sugar
80g self-raising flour
2 tbsp cocoa powder
200ml double cream
1 tsp vanilla extract
8 tbsp cherry liqueur (optional)
For the icing:
120g unsalted butter, softened
160g icing sugar
100g cocoa powder
Splash cherry liqueur (optional)
4 tbsp whole milk
Icing sugar and chocolate shavings for decorating
Christmas cake decorations if using
Method
Preheat the oven to 190°C/gas 5.
Grease and line a 33cm x 23cm Swiss roll tin.
Separate 4 eggs. Beat the egg whites with an electric whisk until stiff, then gradually add 50g caster sugar while whisking continuously.
In a separate bowl, beat the egg yolks with 75g caster sugar, add 80g self-raising flour and 2 tablespoons cocoa powder, then fold in the egg whites.
Pour the sponge mixture into the tin. Use a spatula to spread the mixture evenly, then bake for about 10 minutes, until the top is springy.
Remove from the oven, place a damp tea towel over the top of the tray and set aside to cool.
Whip 200ml double cream to stiff peaks, then add 1 teaspoon of vanilla extract.
Remove the cooled sponge from the tin and turn it upside down on a plate.
Soak the sponge with 8 tablespoons of cherry liqueur (optional), then turn it back over on to the baking parchment and spread the whipped cream on top. If not using liqueur, simply spread the cream all over the sponge.
Holding the baking parchment with the longer side towards you, roll the sponge up, keeping it nice and tight.
To make the icing, beat 120g softened, unsalted butter until smooth and then gradually beat in 160g icing sugar and 100g cocoa powder. If using, add another splash of cherry liqueur and mix well.
If the icing needs thinning, add 4 tablespoons whole milk a little at a time, then spread it over the entire cake with a palette knife, making markings to resemble bark.
Sift icing sugar over the cake, then decorate with chocolate shavings and Christmas cake decorations.
Extracted from
Celebrate
by Pippa Middleton, Hardback £25 (Penguin Books)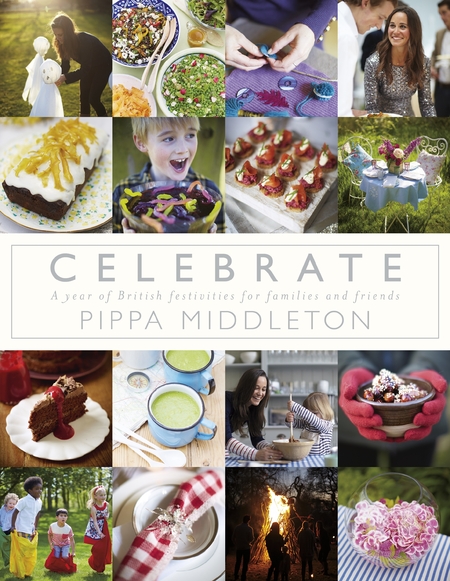 PIPPA MIDDLETON'S VENISON & BEETROOT STEW
PIPPA MIDDLETON DATING JAMES MATTHEWS?
PIPPA MIDDLETON DONS FOUR FROCKS FOR BOOK LAUNCH