We love a good recipe book and we're particularly impressed with
Hugh Fearnley-Whittingstall
's
Three Good Things On A Plate
.
If you want a salad with a twist for lunch this week look no further than Hugh's trout, watercress and spelt version. Spelt is an unusual type of cous cous that you can buy from health food shops and whole food stores. It's great for adding texture to a simple leafy salad or Moroccan-style meat dish.
Here's the recipe if you fancy a treat...
Trout, watercress, speltServes 4
Hugh says, "I've always loved the clean, fresh pairing of watercress and trout. Here I've added nutty grains of pearled spelt to the mix to create a smart but simple salad starter. If I can't catch my own, I always buy organically farmed trout".
Ingredients:
1 organic rainbow trout (about 500g), or 2 smaller fish, scaled and gutted
½ onion, sliced
½ teaspoon black peppercorns
2 bay leaves
A few parsley stalks (optional)
100g pearled spelt
2 handfuls of young, tender watercress
Sea salt and freshly ground black pepper
For the dressing:
50g plain wholemilk yoghurt
½ teaspoon English mustard
Juice of ½ lemon
A pinch of sugar
Method:
To poach the trout, gently wash the fish under cold running water, then lay it in a suitably sized saucepan and pour on enough fresh cold water to just cover.
Add the onion, peppercorns, bay leaves and parsley stalks, if using.
Bring to a very gentle simmer and cook for 8–10 minutes, no longer. Lift out the fish on to a board and allow it to cool completely. Strain the liquid (now a fish stock)
into a clean pan and return to the heat.
Wash the spelt well, then add to the fish stock. Add 1 teaspoon salt, bring to a simmer and cook for 25–30 minutes, until tender. Drain and allow to cool.
Peel the skin from the trout, then carefully lift the flesh from the bones, removing any small pin bones as you go. You should get around 250g cooked trout flesh.
For the dressing, put the ingredients into a bowl and whisk well to combine. Season with salt and pepper to taste.
Gently combine the fish with the cooled spelt, being careful not to break up the pieces too much.
Divide the fish and spelt between serving plates, scatter over the watercress and trickle over the dressing.
Give a final seasoning of salt and pepper before serving, with brown bread and butter, and a glass of crisp white wine.
Swap You can make a nice version of this salad using small, waxy new potatoes instead of spelt.
Scrub the potatoes and simmer in lightly salted boiling water until just cooked. Drain and leave to cool completely. Peel only if the skin looks coarse after cooking.
Cut the potatoes into quarters or smallish chunks and toss with the flaked fish and dressing. Scatter over the watercress.
Hugh's Three Good Things on A Plate, £14.75,
amazon.co.uk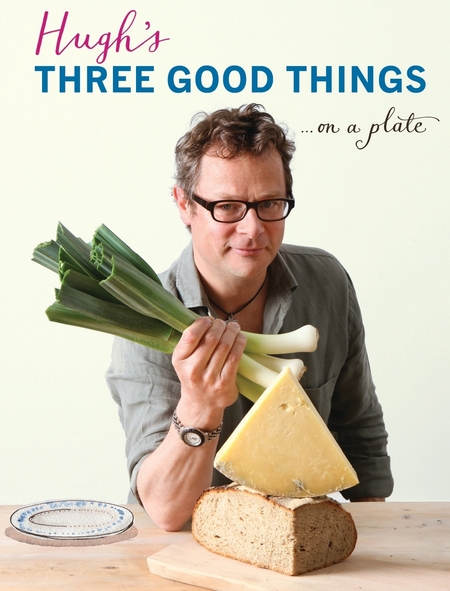 Published by Bloomsbury Publishing Plc, 2012. Recipes by High Fearnley-Whittingstall, 2012.