Chow down this evening on a taste of the sea with this hearty fish soup.
Taken from
The Surf Café Cookbook
, it is inspired by a little café by the sea called Shells in Strandhill on the beautiful west coast of Ireland.
Run by surfing chefs Jane and Myles Lamberth who love nothing more than foraging on the beach and using fresh and local produce to create delicious meals.
West coast chowderIngredients:
Fish mix
600g (11⁄2 lb) mixed, diced and deboned fish (Any white or pink fish like monkfish, hake, salmon, ling, seabass, gernard or trout will work, but avoid oily fish like mackerel or tuna.)
200g (1⁄2lb) natural smoked haddock or coley
400g (1lb) cooked shellfish (Clams, cockles, razor clams, mussels, scallops, shelled shrimps or prawns and crab will work, but avoid squid or octopus.)
1 tbsp oil
1 onion, finely diced
1 leek, finely sliced
3 cooked and peeled medium size potatoes, diced
1 carrot, finely diced
2 cloves, garlic
Pinch cayenne pepper (or substitute with a teaspoon sweet 
chilli sauce)
50g (1⁄2 cup) flour
100g (1⁄2 cup) butter
400ml (12⁄3 cups) milk
100ml (1⁄2 cup) cream
Pinch white pepper and salt
600ml (21⁄2 cups) fish stock
Chopped parsley and chives to garnish
Method:
In a big pot at a high heat, sauté all the veg, except the potatoes, in olive oil until soft to the touch. Set aside in a bowl.
In the same pot melt the butter and then stir in the flour to make a paste or roux.
Slowly add the milk and stir vigorously to form a basic thin white sauce.
Stir in the fish stock, and return the cooked veg, this time adding the potatoes.
Stir in the cream and the cayenne pepper and chopped parsley.
Bring all this to a slight simmer and let it thicken slowly, giving it a stir every now and then. This should take between 5 and 15 minutes depending on the size and thickness of your pot. Keep it on a medium heat.
Slide in the fish and shellfish and let things simmer for another 10 minutes or so, until the fish is cooked.
Keep the heat low and avoid stirring so as to not to break up the cubes of fish.
Take off the heat, but let the chowder sit for another five minutes as the fish continues to cook in its own heat. (Try not to overcook the chowder... cook it slowly).
Pour into bowls and garnish with chopped chives and parsley.
Serve with brown soda bread and a tall glass of Guinness.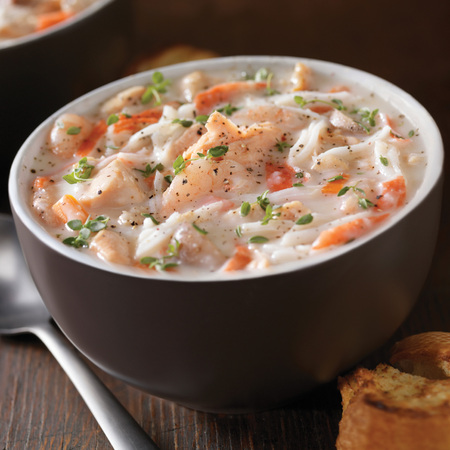 The Surf Café Cookbook, £17.99