There are many things that get us silly excited here at Handbag HQ, but getting free food has to be up there as a biggie.
So when we were sent the latest offering of Milky Way
chocolate
spread in a tube (£1.99, Sainsbury's), a Mexican wave of joy rippled around the office.
Initially we pumped a bit of the chocolate spread out on to our fingers...but the swirls of brown and white made it look a bit like a bird poop.
Then we went down the classy route and just started decanting it straight into our mouths from the tube, usually something reserved for squirty cream in a can.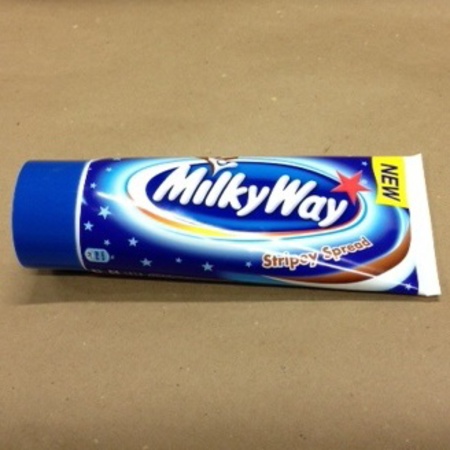 However, we realised you lot probably wouldn't want to see a photo of that. Bit much. So we did the sensible thing and spread it on some bread.
The verdict
Overall we liked the idea and the novelty, although some muted it was a bit like a too sweet version of Nutella (whimps, these
teeth aren't going to rot themselves
).
We also worry that we would lose a lot of the spread to the tube, as it is not as easy to scrape it out as you would a jar. Cue a long conversation about the practicalities of scraping chocolate spread out of different containers...
Result: 3/5
KITCHEN GADGETS THAT WANT US TO EAT MEAT LIKE LADIES
HELLO MARMALADE & MUSTARD GLAZED GAMMON
CLICK HERE FOR MORE FOOD AND DRINK NEWS ON HANDBAG.COM