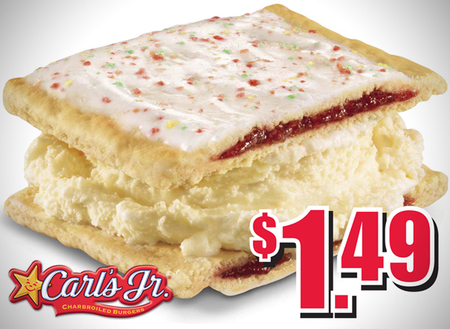 You've got to hand it to America - when it comes to taking unhealthy food and making it shockingly more unhealthy, they take the biscuit (and then smother it in peanut butter).
Burger chain Carl's Jr. are currently doing a fantastic demo of this by launching their new summer pudding - The Strawberry Pop Tart Ice Cream Sandwich.
Oh look at that - we're dribbling.
There's no fancy trickery with the name here - it is quite simply a scoop of vanilla ice cream, squished between two strawberry Pop Tarts.
First tested out in Orange County, the 320 calorie treat is going to be available nation wide in the States this week for $1.49.
Now before you get upset - just remember - all you need is a box of Pop Tarts, a tub of ice cream and a little imagination.
16 EXCUSES TO EAT LOTS MORE PASTRY
CUTE ICE CREAM BOWLS YOUR KITCHEN IS MISSING
CARL'S JR. BURGER BABES...