A man in Darlington was left horrified after finding a live slug in his Burger King meal.
All together now - ewwwwwwwww. Gross.
Manminber Singh, 37, was happily chomping through his favourite Chicken Tendercrisp burger when he spotted the little slug crawling along the lettuce, reports
Digital Spy.
The outraged diner told the
Northern Echo
, 'I was really shocked as I really love this burger and never had anything like this happen before.
'The staff did not seem bothered and the manager just wanted to give me my money back,' explained Singh.
He continued, 'She [burger king staff] said it was a problem with the chiller but I think it is because the place is not properly clean...I want health and safety people to come and lock them down.
'This might have affected my health as I have problems with my stomach and this could put me in more danger.'
[Side note: See below for a recipe to cook slugs]
A Darlington Borough Council spokeswoman said there 'is no apparent evidence of an insect infestation' at the Burger King branch at Cornmill Centre, Darlington, where the incident took place.
'From this initial visit, it would appear that the slug has come in on pre-washed lettuce which was then overlooked in the processing of the food order,' they added.
A statement issued by Burger King read, 'We are taking this situation very seriously and are conducting a full investigation. We greatly value customer feedback to ensure we get our service, restaurants and products right every time.'
But this whole issue obviously raises another question regarding food safety: Is it ok to eat slugs?
A quick google search (we mean, er, after some intrepid journalism) we could find no concrete evidence that you can not eat slugs, but it is just not the done thing (unlike their fellow garden dwellers, snails.)
However - we did find Hugh Fearnley-Whittingstall has a recipe on the
Channel 4 website
for how to prepare and eat slugs the correct way, if you fancy giving it a go: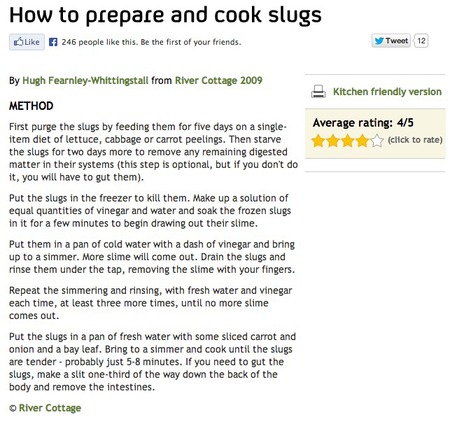 ROYAL BABY: 18 BEST OF BRITISH RECIPES TO HELP CELEBRATE
BRITONS WILL SPEND £60M ON ROYAL BABY BOOZING
COUNTING CALORIES WON'T STOP YOU EATING A MCDONALD'S