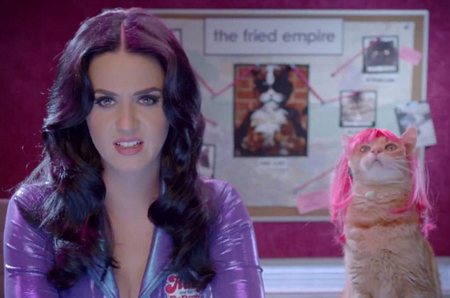 Katy Perry
has donned a purple catsuit to fight crimes against healthy snacks for her new Popchips advert.
Doing Charlie's Angels with cats – the pop star battles an evil fat cat (with a German accent – obviously) who wants people to eat fat laden snacks.
Not only is she a kick ass 70s style crime fighter with awesome hair (who just happens to rap as well), she drives a van like Scooby Doo and does shots of milk.
Bonkers? Erm, yes. Brilliant? You bet.
Say what you want, but we freakin' love it. You enjoy while we go off to put a wig on our cat. Come here RCatz...
CATS & DOGS PLAY DRESS-UP...
WEIRD FOOD COMBINATIONS THAT WORK
KELLY BROOK PREPARES LEAN LUNCH-BOX MEAL
GERARD BUTLER CRACKS NUTS WITH HIS BUTT