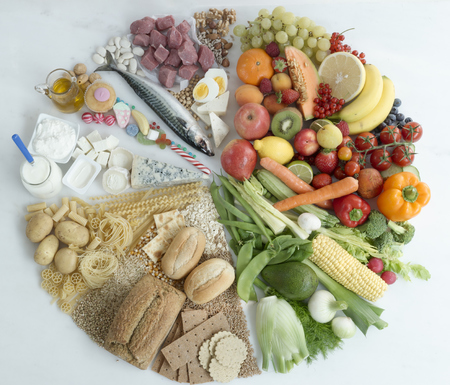 While most of us are on the hunt for the tastiest meals, nutritionists are constantly looking for the 'perfect meal' - a dinner plate that is healthy, nutritious and follows the balanced diet principals.
The hunt for the perfect meal has to start with the 'plate ratio'. This is a way of sectioning your dinner plate so you have the right amounts of each food group. Basically, one third of your plate should be made up of fruit and vegetables in any form, a following third should be wholegrain rice, pasta, bread and potatoes and the final third should be lean protein, milk and dairy and a tiny amount of sat-fat foods.
Once you've got this down, the next trick is to choose foods that fit in these categories that provide the maximum amount of vitamins, minerals and essential nutrients possible. To get your 100% RDA you'd end up eating a trough-load of food, so be practical with how much you can actually eat.
In 2012, scientists from the Leatherhead Food Research centre claimed to have created the perfect daily menu, focussing on cholesterol-balancing omega-3s (from oily fish) and folates, which can be found in multigrain breads.
These antioxidants are worth adding to your daily diet too...
According to their research, the healthiest meal ever includes salmon terrine and a mixed-leaf salad with extra-virgin olive oil dressing to maintain normal blood cholesterol. For a main course, chicken casserole with lentils and mixed vegetables, and a high-fiber multigrain roll is the best option with 80 health boosting benefits, including high concentrations of pantothenic acid to help reduce tiredness and 'improve mental performance'.
For dessert, the most nutritious option is yoghurt-based blancmange topped with walnuts and a sugar-free caramel sauce that's good for your digestion, blood-glucose control and teeth. Walnuts are also suggested as the ultimate healthy snack because just a small handful (30g) is proven to 'contribute to the improvement of the elasticity of blood vessels'.
But we can't all eat like this everyday can we? The trick is to find a few easy dinners that are high in protein, packed with vegetables and based with wholegrains, while providing essential nutrients and fats.
We promise it's possible!
Here are a few ideas to get you on the 'perfect plate' track...
+Organic, lean steak fillet, green beans, spinach, tender stem broccoli, kale, black beans and wholegrain rice.
+Chicken breast, sliced avocado, tomato and onion salsa, peppers, sliced carrot and courgette with brown rice
+ Mashed sweet potato with goat's cheese and a three bean side salad and leafy salad greens.
+ Salmon with green beans, broccoli, spinach and baby new potatoes with sesame seeds in a light coriander dressing.
+ Grilled chicken with wholegrain pasta in a tomato sauce with chopped courgettes, onions, carrots, peppers, mushrooms and wilted spinach.
What do you think?
6 OF THE WORST FIRST DATE FOODS
8 FOODS FOR HEALTHY AND SHINY HAIR
GERARD BUTLER CRACKS NUTS WITH HIS BUTT